Studio Space / Rival Studios
Cite This Entry
APA Citation: Munro, J.F. (2022, May 9). Studio Space/Rival Studios. Holsinger Portrait Project. https://juel.iath.virginia.edu/node/1439
MLA Citation: Munro, Julia F. "

Studio Space/Rival Studios."

Holsinger Portrait Project. Univ. Virginia (2022, May 9). Web. [Date accessed].
Return to the Holsinger Main Page.
See also: List of Names / Biographical Information on Sitters / Online Gallery of Holsinger Portraits of African Americans / Holsinger Studio Lighting
Photographs of the Physical Space
BELOW: the only image to show the exterior of Holsinger's studio (719-721 West Main Street). It appears that a type of screen is affixed on the exterior of the building to control the light coming into the second-floor windows, the second floor apparently being where the studio was set up. The exterior photo was taken 1902, courtesy of the Charlottesville Albemarle Historical Society (source: Brennan and Maliszewski):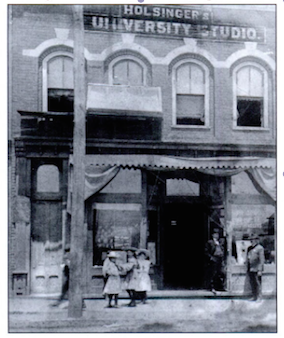 BELOW: An exterior photograph of an earlier popular photography studio in Charlottesville, Tyson and Perry (approximate date of photo 1870-4):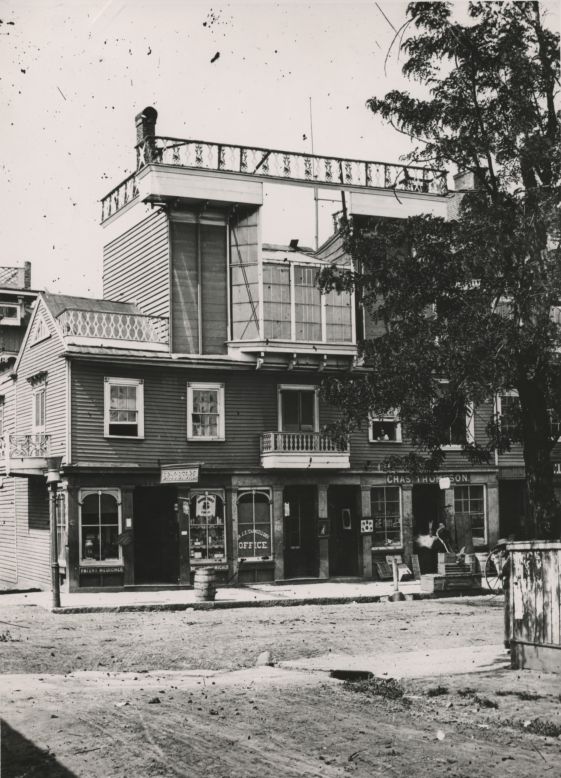 BELOW: Clover's book states this portrait was taken outside of Holsinger's studio (the ruffled bunting above the door, as seen in the photo of the building above, can also be seen at the top right of this photo). The studio was near the bridge over the railway lines; behind the elderly man can be seen the "trainmaster's office of Southern Railway." "West Main Street," March 17, 1913 (X01181B).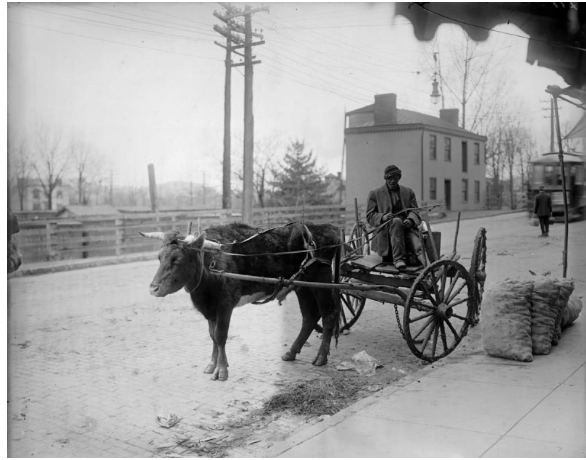 BELOW: This earlier photograph, "West Main Street near 'The Junction'" (approximately 1887-1894) shows West Main Street looking east (opposite to the direction in the photograph above); the building with signage for shoes is in the approximate area where Holsinger's studio was situated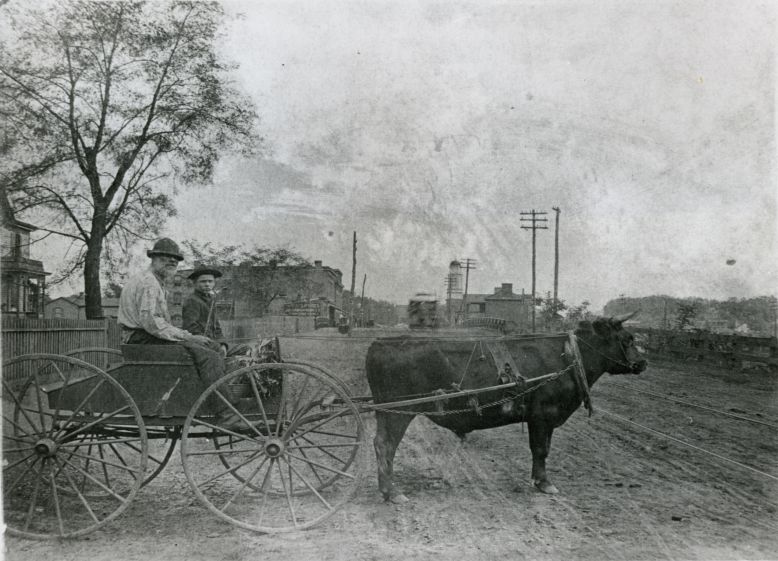 BELOW: Signage for a photography studio, possibly Holsinger's ("Monticello Guard, West Main Street Charlottesville), U00171A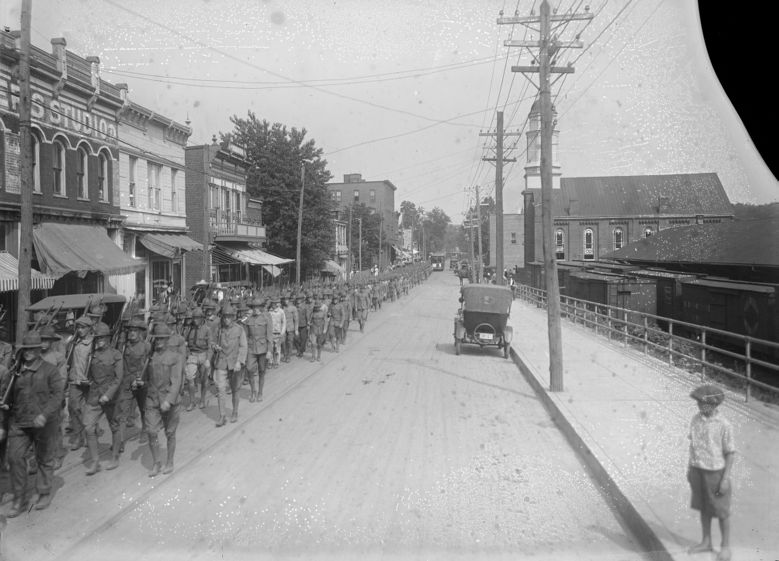 Some early Holsinger photos (date unknown) reveal the type of interior drapery, furniture, and rugs used in early portraits. Possibly these fixtures came from studios that Holsinger bought out. More information will be added as it is found (in terms of which studios were bought out, and when).
Untitled, date unknown, print (and a duplicate) from the Special Collections, University of Virginia. Rufus Holsinger (with mustache) is seated in the center of the photo, front row (second from left). There are many portraits of him and, interestingly, he almost always poses in this manner. Not all individuals have been identified. On the back of the print, however, was written "R. L. Hiserman"; he has been identified as the young man in the white waistcoat, second from the right.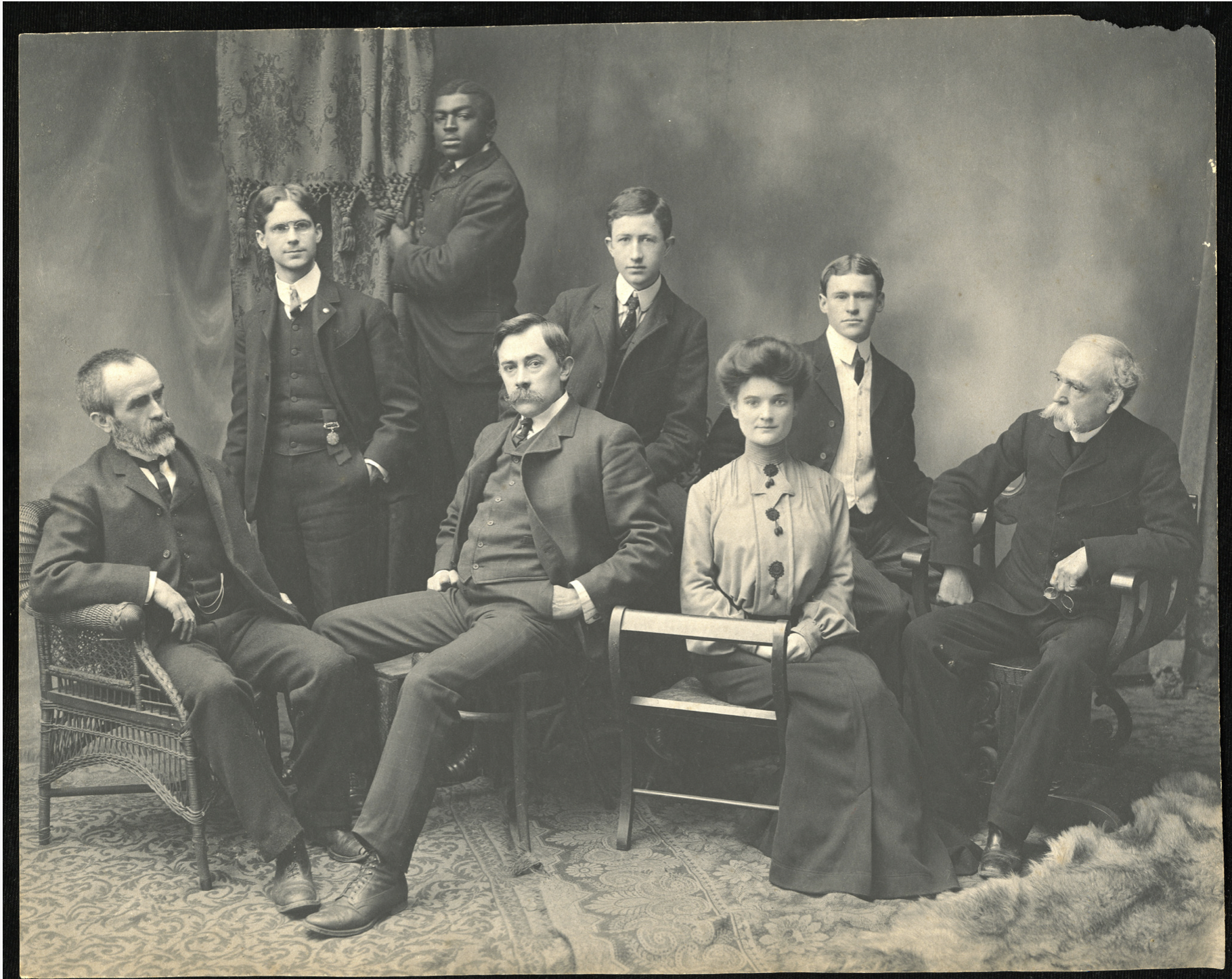 "Morris Family," date unknown, U00208D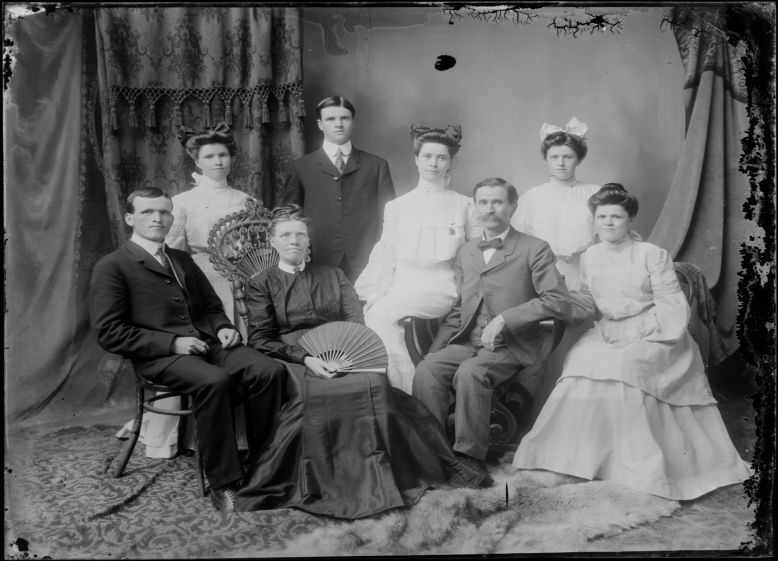 Untitled, date unknown, U00373B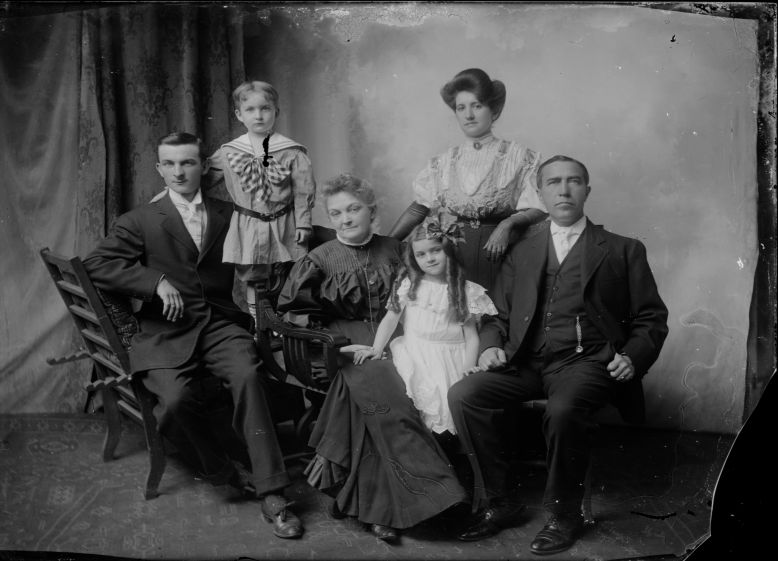 Untitled, date unknown, U00193D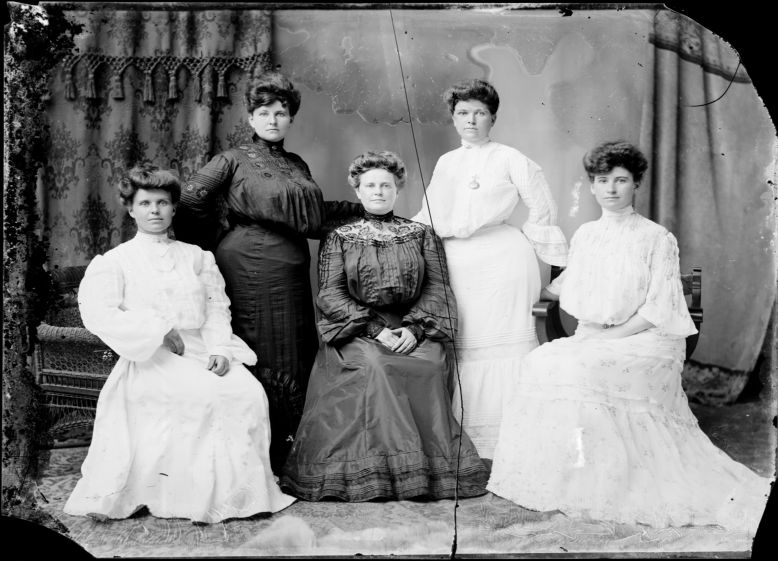 Employees/Methods
- Located at 719-721 West Main Street, Charlottesville; long-time employees include son (and eventual owner of Studio) Ralph Waldo Holsinger and local African-American man, Horace Porter (P48016). The dates of employment are unclear. Family members as well as employees can be seen in portraits (including family cook, Lena [P48017]). The Charlottesville City Directory, 1914-15, lists the following as employees of Holsinger's Studio: "William E. Eutsler (P48198), photo University Studio h 1200 Wertland" and "Claudius B. McCollister (P48199) photo University Studio h 715 W Main." [Horace Porter is listed in the 1914-15 Directory as well, though not listed in relation to Holsinger: "Horace Porter, porter h Hartman's Mill rd nr Ridge extd." He was married to Viola Green.]
"Miss Macie Kirk," 1915-12-14. Possible photograph of the studio foyer? (Photographs on the walls are Holsinger prints, there appears to be a product rack, woman with crutches):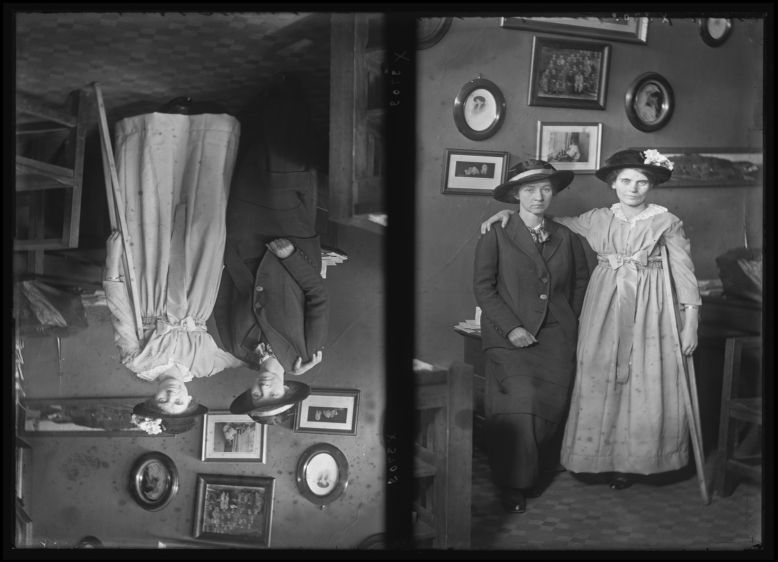 - The majority of photographs were produced using the wet glass-plate* method (about 500 photographs in the collection were on celluloid negatives, likely from later years when son Ralph W. Holsinger took over the studio) ("The Holsinger Studio Collection"). Glass plates of varying sizes (most commonly, 8 x 10; other sizes included 5 x 7 through 14 x 17) were pre-prepared, with exposure times being relatively short ("The Holsinger Studio Collection" notes that following the 1912 studio fire, "the negatives surviving the fire range in size from 5 x 7 to 14 x 17.") The camera was simple in operation, but obviously allowed a limited window of time for operating. The objects seen through the lens were upside-down and backwards (laterally reversed). Prints were made from the glass negative using albumen paper (likely purchased prepared; one source indicates Holsinger likely purchased from E. & H. T. Anthony & Co., the largest American manufacturer of photographic paper and supplies).

Below: Holsinger's studio equipment (camera and negative plates)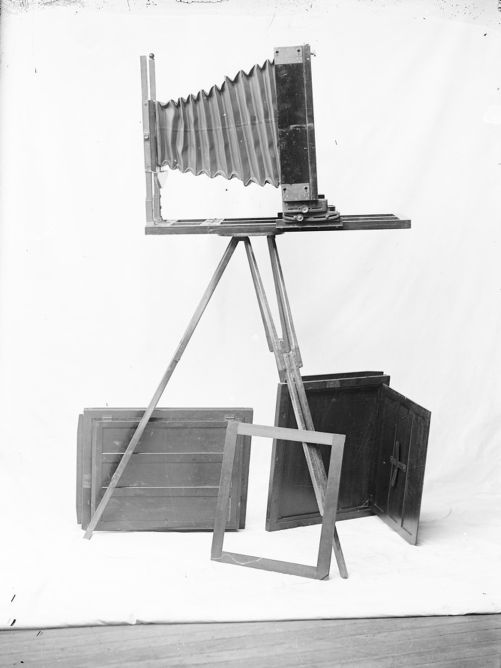 Below: This photograph shows the plate Holsinger used to take photos of prints (as can be seen occasionally in the negatives, part of Holsinger's business was to take photos of other photos, documents, etc.). The wooden plate at the bottom is engraved with: "The CURRY, utility copying & enlarging board & bprings (patent pending), Mfr. by Frank J. Curry Phil. PA (Untitled, U00245A):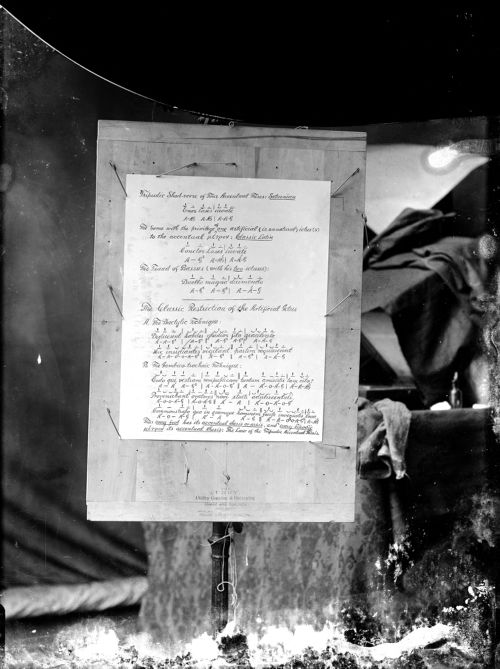 Below: Portrait Studios like Holsinger's, as well as drugstores, sold photographic papers and supplies. The sign in the shop window below, for instance, has a display for "FINSCO Photo Supplies" as well as other ads and photo prints; photograph of Chancellor's Drugstore (date unknown)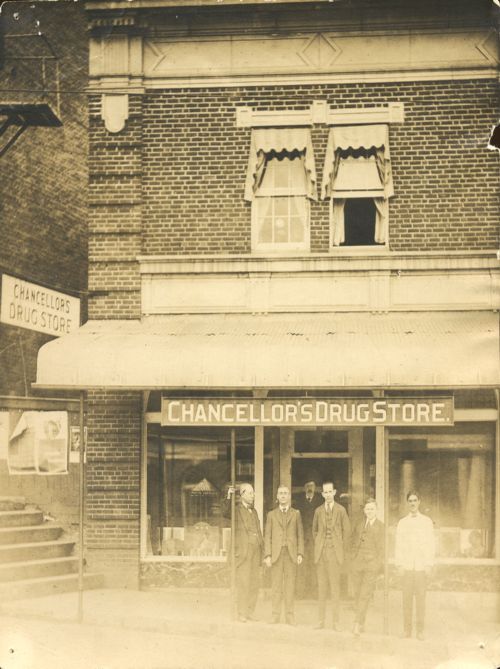 Below: photographer's and assistant's shadow (Untitled, 1889/1930, X05619B)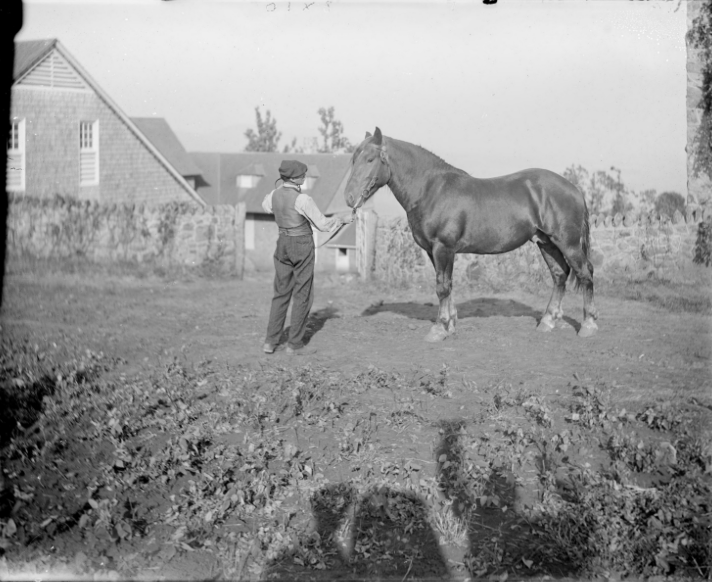 Photographer and assistant (H. S. Hodge, 1914-10-10, X02698B3)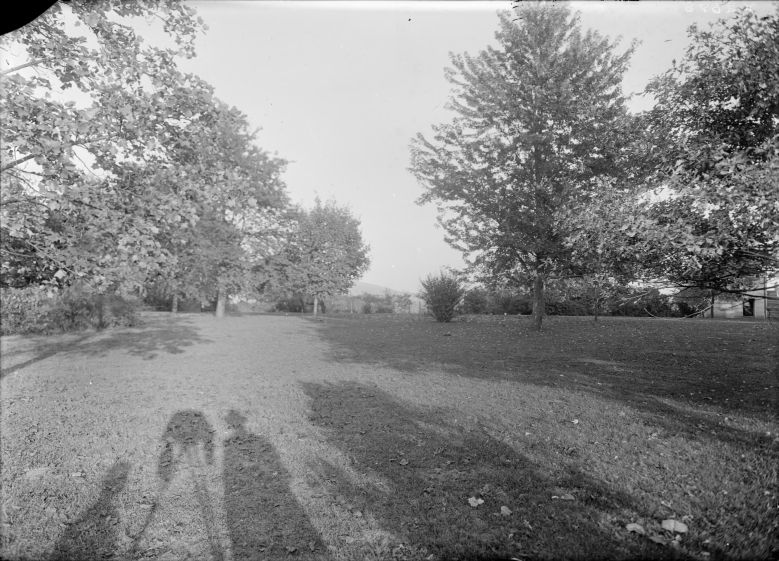 Another capture of the photographers (Untitled, ~1889/1930, U00055A)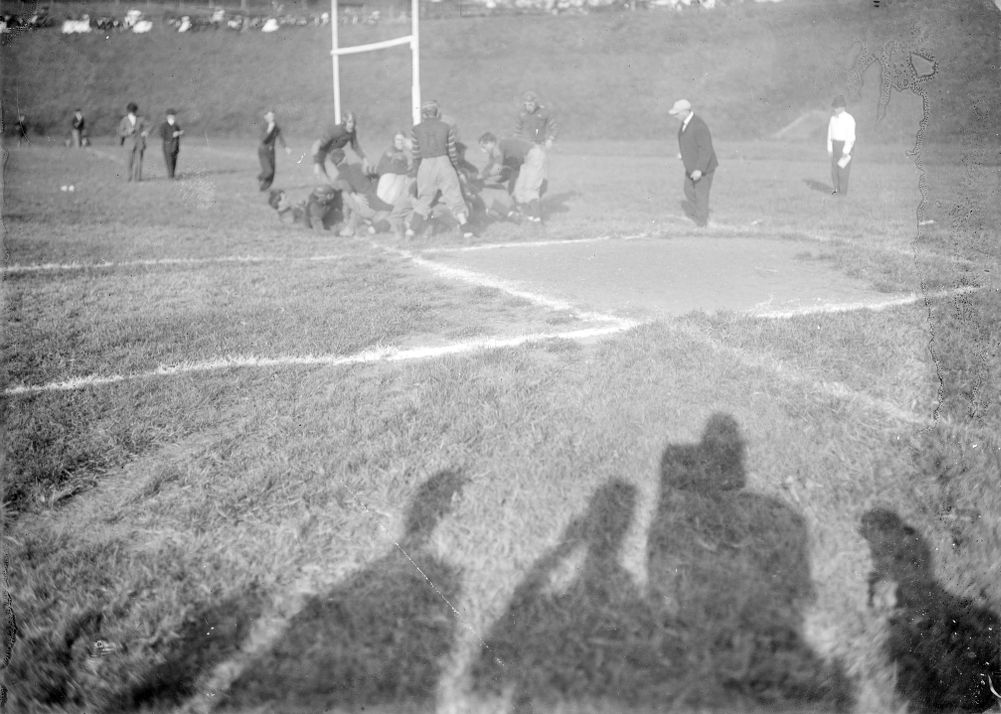 The single photographer ("Monticello," 1889/1930, U00321B)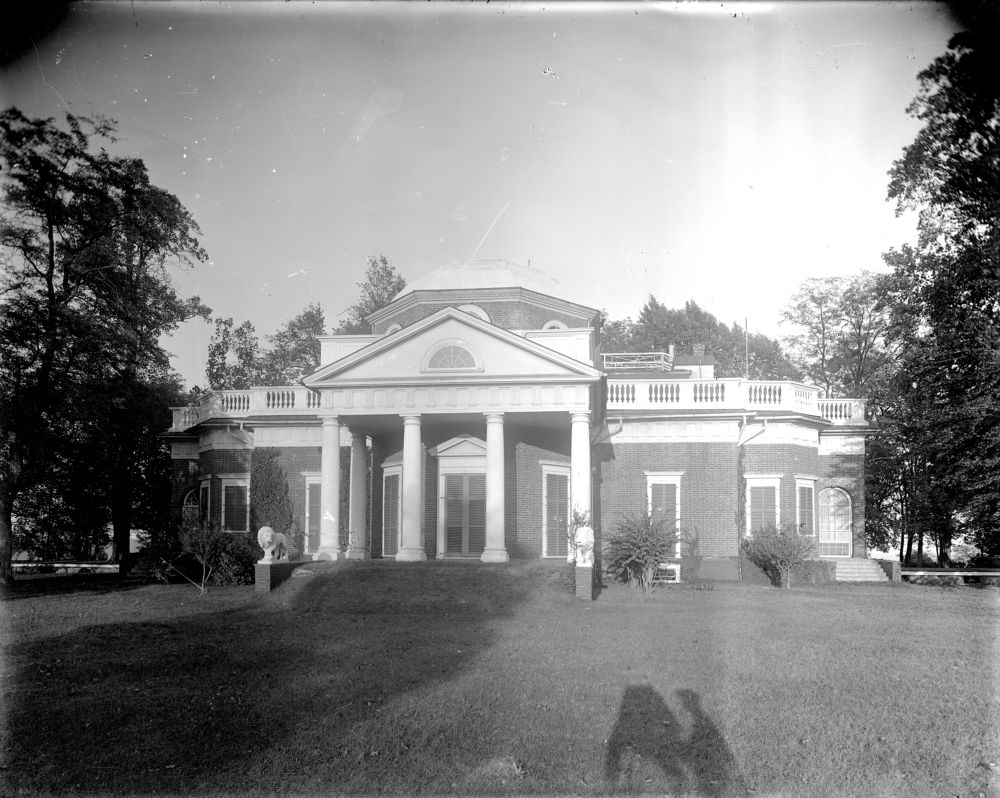 Detail, Charlottesville Lunch (date unknown), Y09559B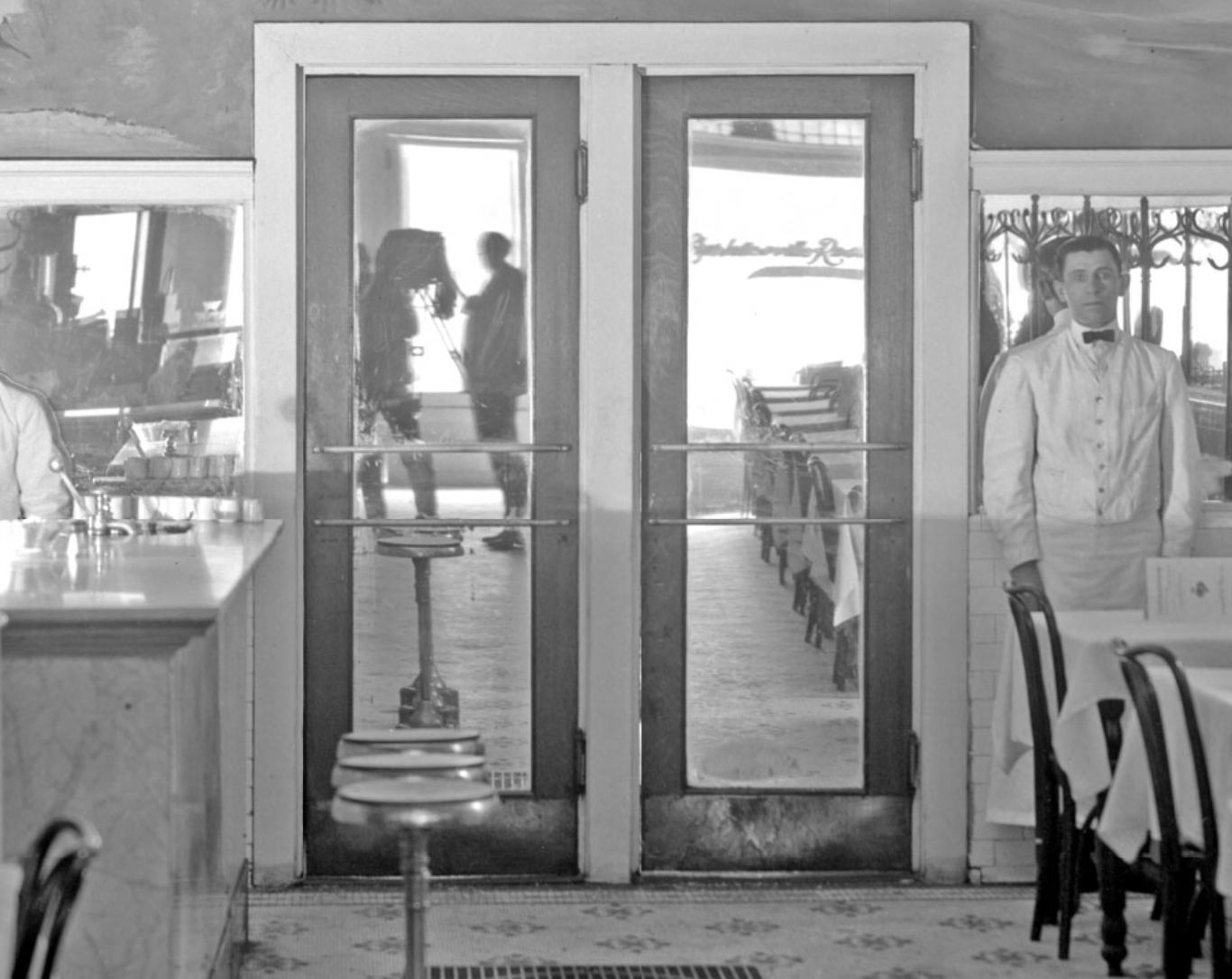 - The majority of the Holsinger Studio Collection owned by the University of Virginia consists of the negative plates (and, in later years, the photographic film negatives), as opposed to the actual photographic prints themselves, which has the advantage of showing us details of Holsinger's studio that otherwise may not have been captured. Of the portraits in the Image Gallery, approximately seventy show interesting details of the studio environs that can help us visualize the set-up of his studio. Holsinger regularly used about four different cloth backdrops for the portraits, typical in design for the period (a library scene, an outdoor scene with column and tendrils, a "blank" screen with mottled design). The backdrops stretched from ceiling and rolled out onto the floor; the subjects stood on the cloth drop (the remaining of which is rolled up, under which the patterned floor can be seen).
- Other studio details revealed in the photographs include the use of the same one or two blankets or drapery (particularly for photographing infants), a low platform, and three or four chairs. That these same backdrops, cloths, and pieces of furniture are used time and again in Holsinger's photographs over the years would suggest that the studio was a simple, reasonably-priced studio catering to the average costumer in a typical American city; studios with more opulant furnishings, draperies, and elaborate backdrops were more typically found in larger cities, in which a studio would have a large enough customer base such that it could charge more and present itself as a "fine" (exclusive) establishment. Charlottesville in 1910, for instance (according to the Census) had a population of 6, 765 (Albermale County: 29, 871; additionally, enrollment at UVA in 1910 was less than 1500). That not only the "average" citizen, but also notable public figures, did come to be photographed at Holsinger's studio does attest to the quality of his images (regardless of the simple furnishings offered) - as does the fact that Holsinger's studio was the certainly the "first name" in local photography for quite some time.
Studio Lighting
"Lena" (Holsinger family cook), 1912-01-04 (H25120A)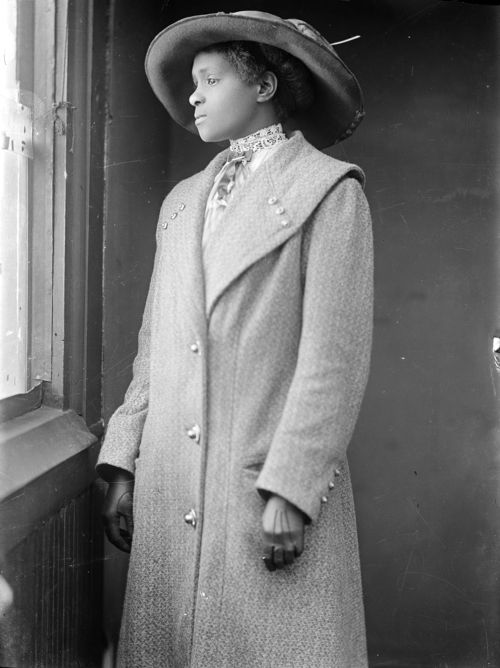 - The studio itself, as can be seen in the exterior photo at the top of the page, was a two-story brick building on West Main Street, the front of which faced in a southerly direction and slightly west. The studio may have occupied the entire floor (or floors of the building); the windows would have been covered to various degrees to adjust to the light. In one image, for instance, there appears to be a slightly opaque covering, adjustable with strings, covering a window (see portrait of Lena above).
- Some portraits (either of women, or infants) have the subject posed before a window, the light shining onto their features. The below portrait shows a typical posture, while also showing details of how the scene was staged. Note the curtains with the scallopped edging are visible in other portraits (in the 1918 portrait of an infant, the draping is visible on the chair's edge). The flooring is also recognizable in many of the studio portraits, as you can see when scrolling through the other portraits below (for example, "Miss M. N. Marshall").
"Miss Willie Garth," 1913-03-03 (X01141B2)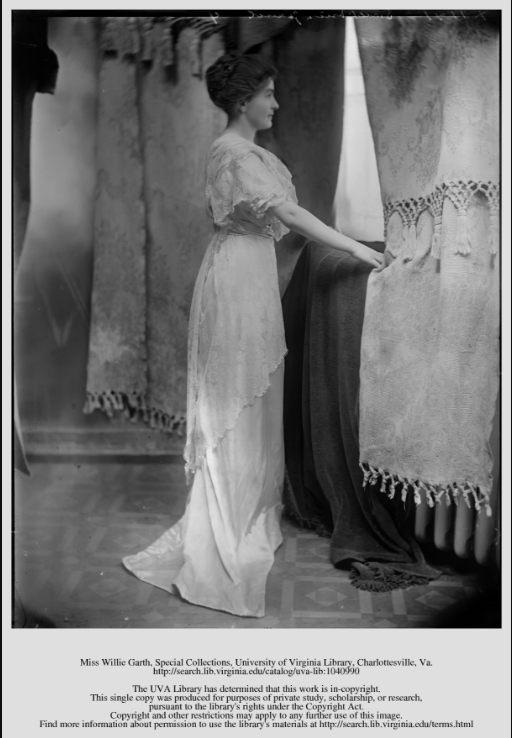 Untitled infant, 1918-12-27 (X07230A)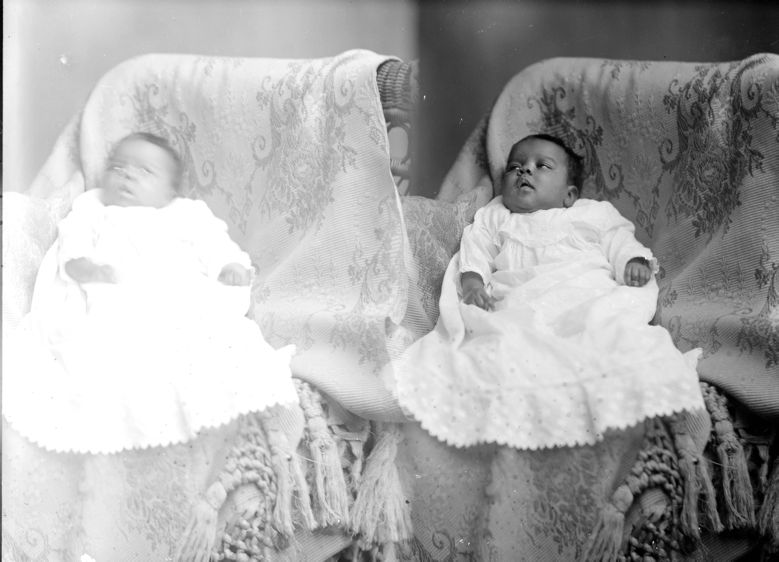 - Several opaque-type screens, on moveable/adjustable poles, are often seen in many of the negatives. A circular-shaped screen was used directly above the subjects' heads, as seen in the portrait below:
Virgie Maury, 1918-10-17 (X06853A2)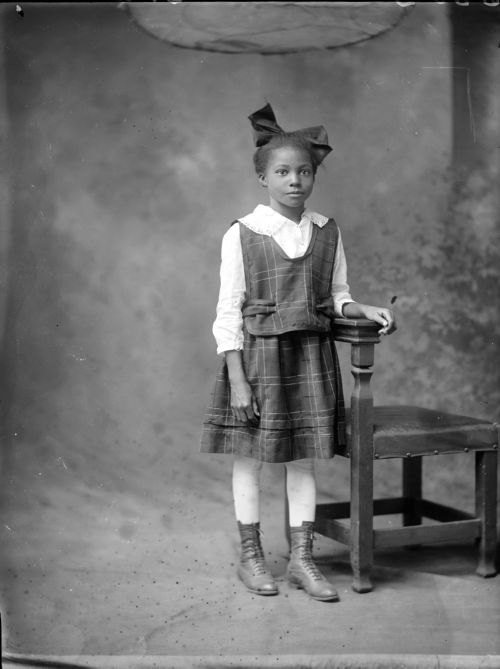 More frequently seen in the negatives is the use of a single, large rectangular-shaped screen and a smaller, bifurcated screen, both positioned directly to the side of the subject. These apparatuses evidently helped diffuse/direct the natural lighting in the room (either blocking off the studio window, or, bouncing the window lighting towards the subject). The portrait of Bennie Palmer shows a bifurcated screen, as does the portrait, "Clyde and Bessie Hansbery."
Bennie Palmer, 1912-03-19 (X00030A)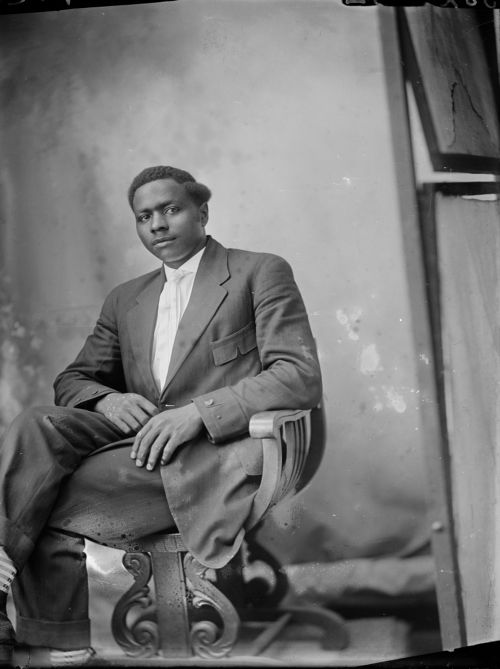 "Clyde and Bessie Hansbery," 1915-08-23 (X03449A)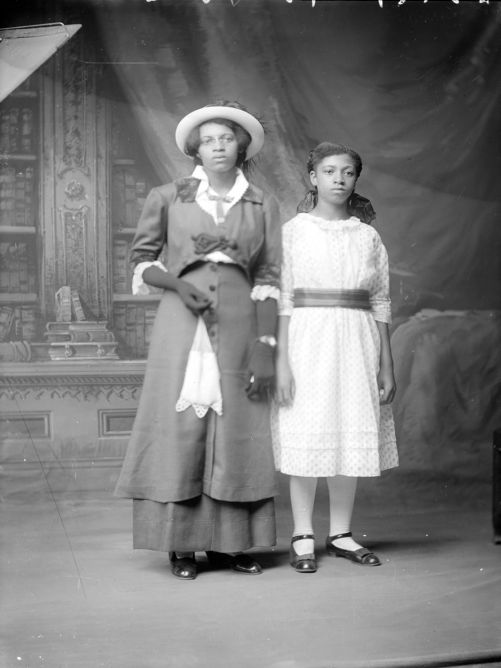 The following images also show the lighting apparatuses and location of the studio window, door, etc. (Note that the finished portraits sold to the customer would have been cropped to various standard sizes so that these details would not have been apparent):
"Willie Chaplin," 1916-10-21 (X04514A)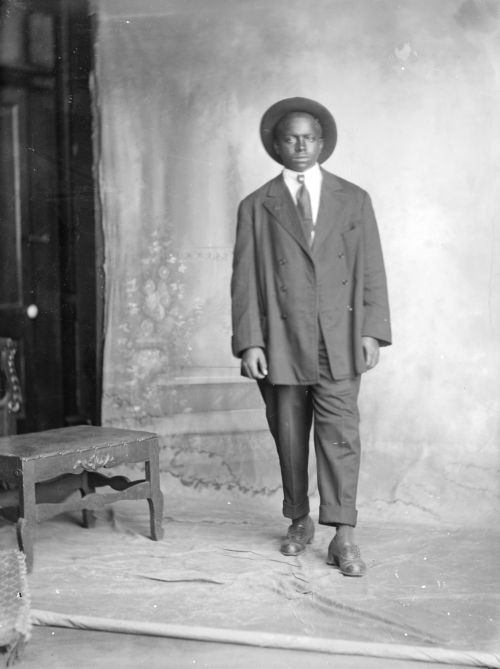 "Miss M. N. Marshall," 1915-08-09 (X03407A)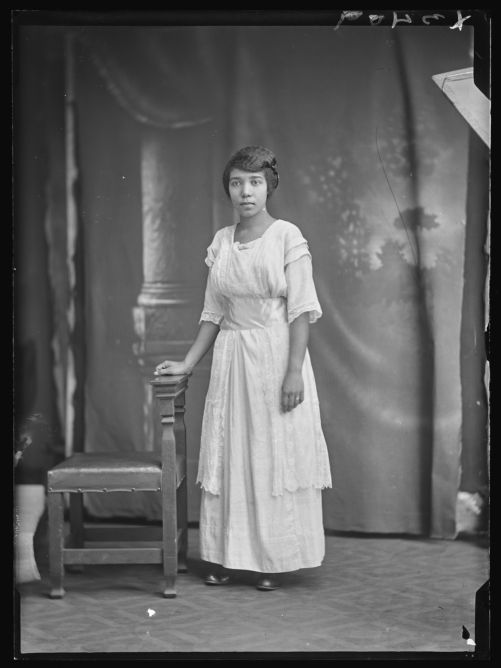 "Amanda Williams," 1914-09-05 (X02577A)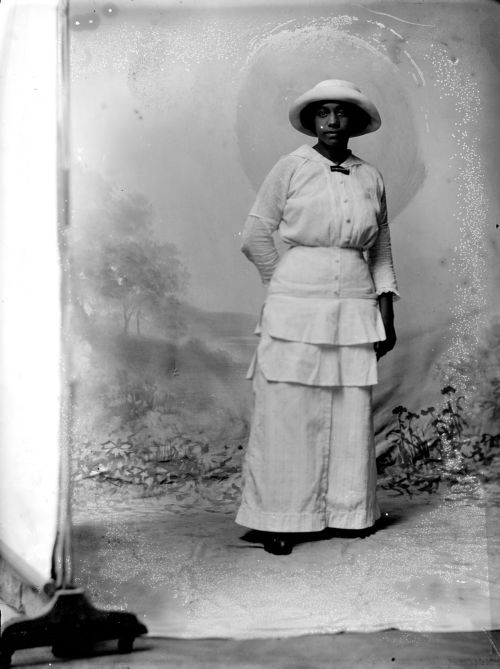 "Margaret Bailey," 1918-11-02 (X06908A)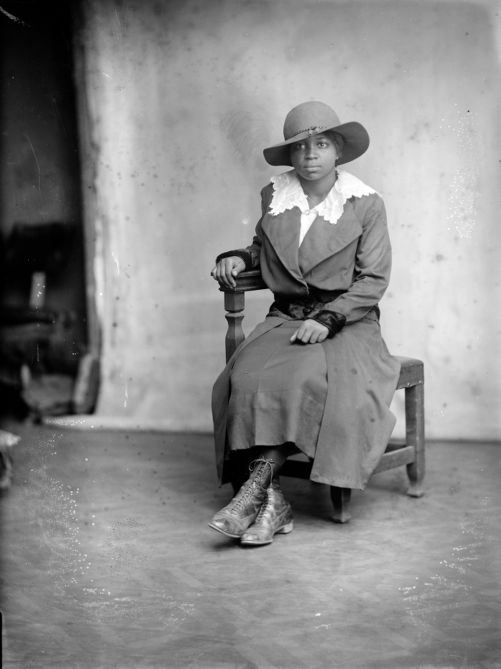 "Mattie Baker," 1914-07-27 (X02479A)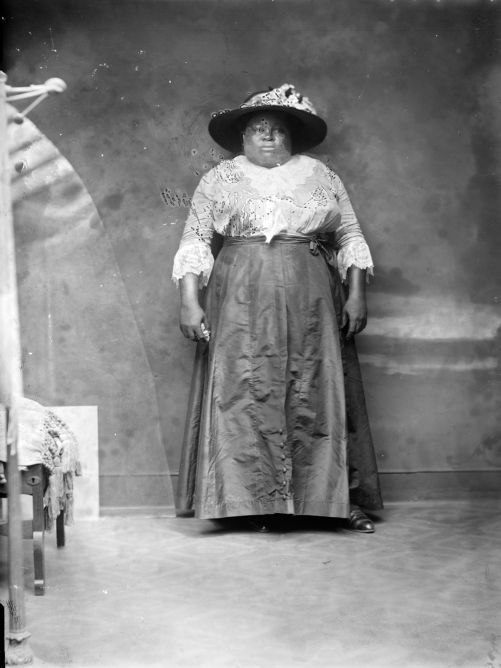 "W. M. Harris," 1915-10-29 (X03578A) (shows portions of the studio flooring and wall)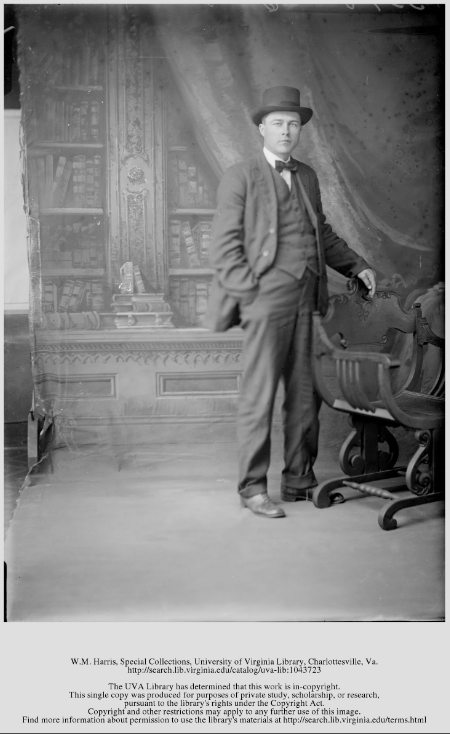 "Hamil Bullack," 1912-05-27 (X00256A)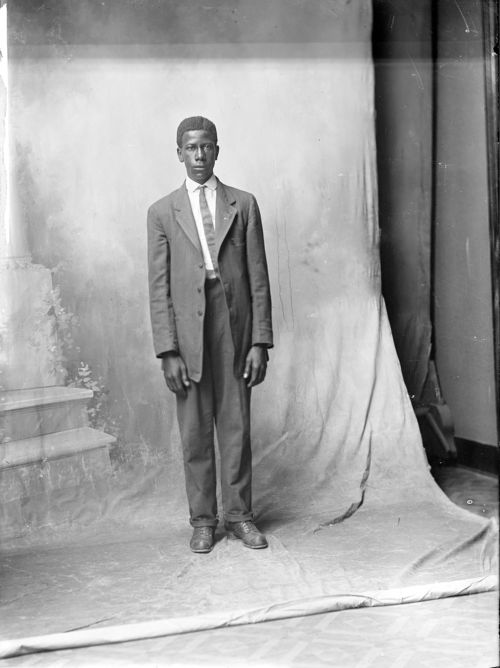 "Lloyd Howard," 1915-09-01 (X03417A)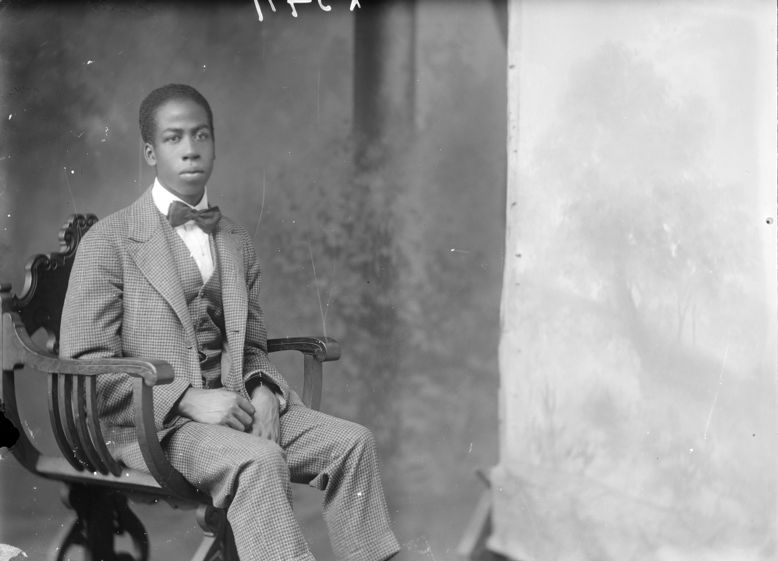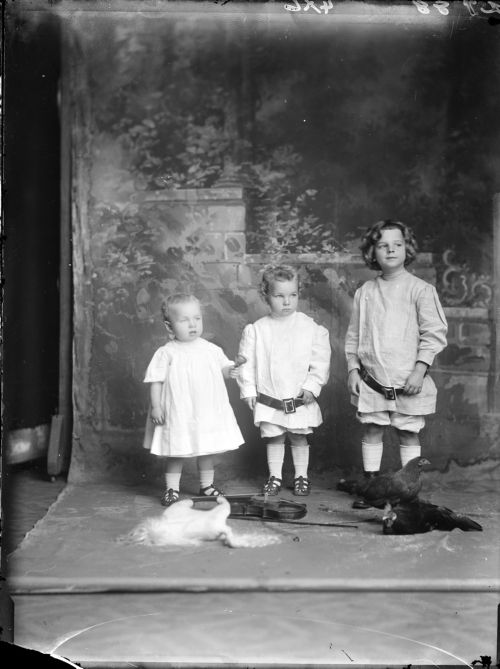 (Above) Untitled, 1912-08-28 photograph in UVA Library Catalogue (X00488A)
Interior details in Ethel Holsinger Portraits
"Ethel Holsinger," 1913-01-04 photograph in UVA Library Catalogue (X00990A3)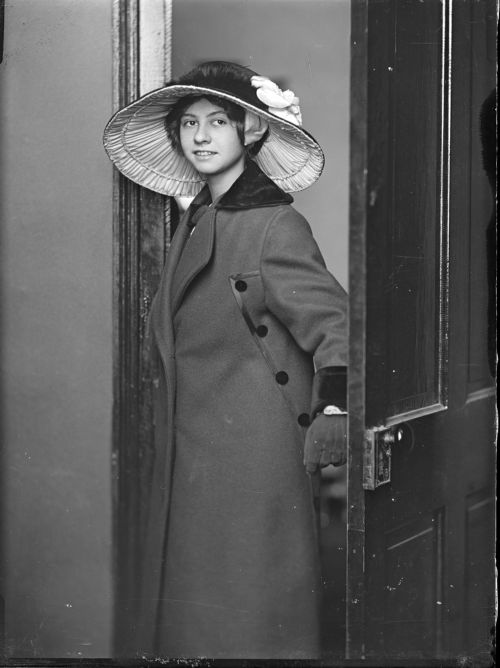 "Ethel Holsinger," 1913-01-04 photograph in UVA Library Catalogue (X00990A5)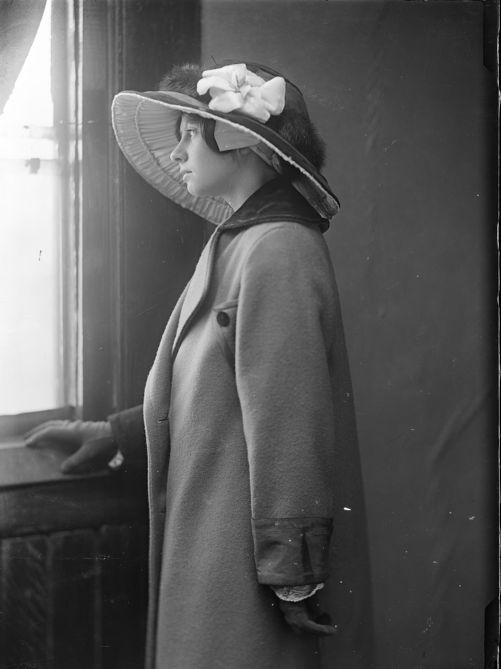 Studio Props/Clothing
Not uncommonly, Holsinger's studio not only had set furniture (chairs) that was used in most portraits, but also appears to have had some items of clothing on hand that were used by some clients.
This distinctive wicker chair appears to be used sparingly, (only in earlier photos, perhaps):
U00229A (Untitled, date unknown)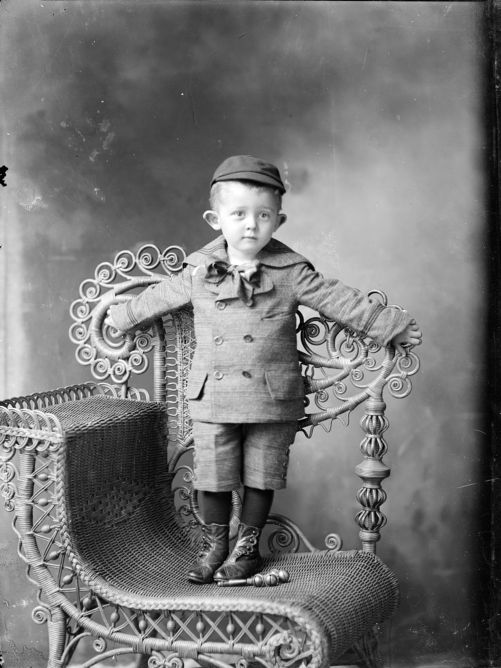 U00214A (Untitled, date unknown)

Sallie Powell (X06473A)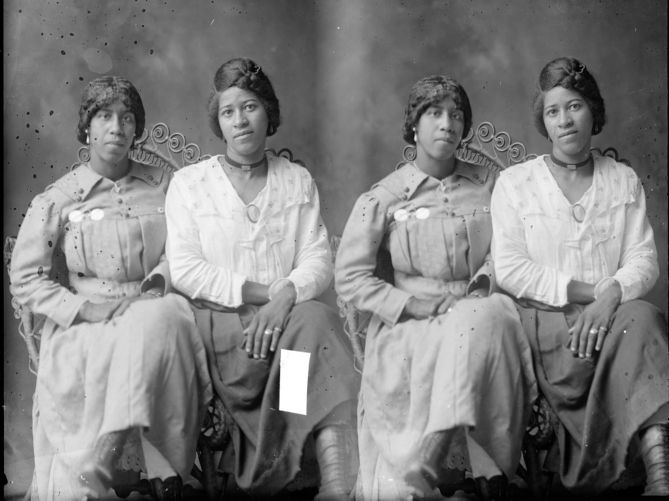 See also Mrs. Underwood (X02315A1)
The two children's outfits below (the belted white frock and the felted winter outfit) have appeared in other portraits:
Mrs. Bud Sprouse (X06379A) 1918-06-22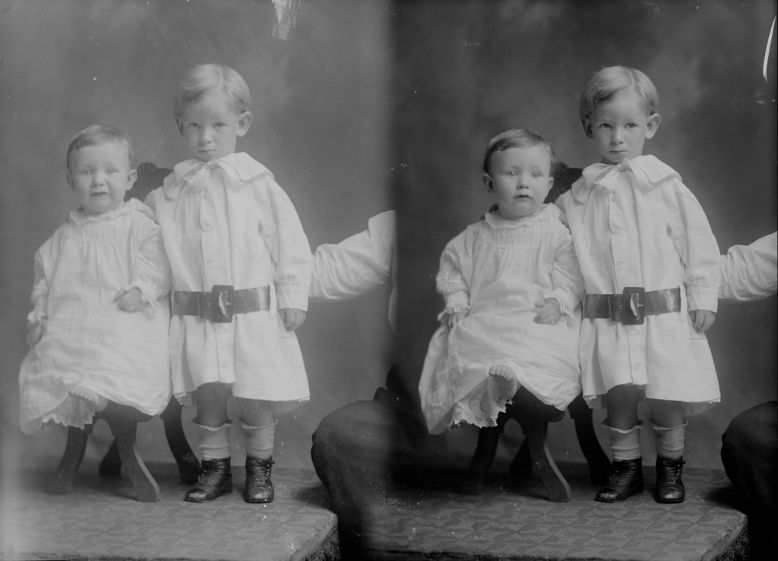 Mrs. John Ayers X07122A 1918-12-07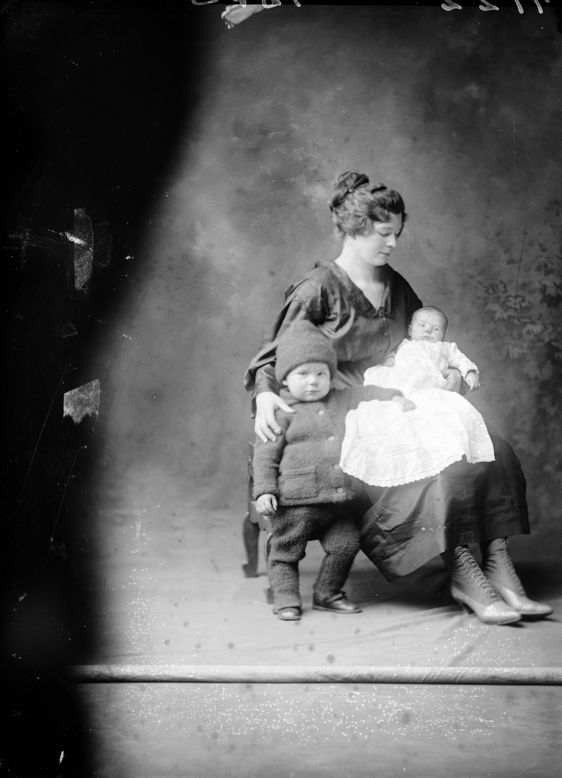 Mrs. Grace Oliver X07081A 1917-12-02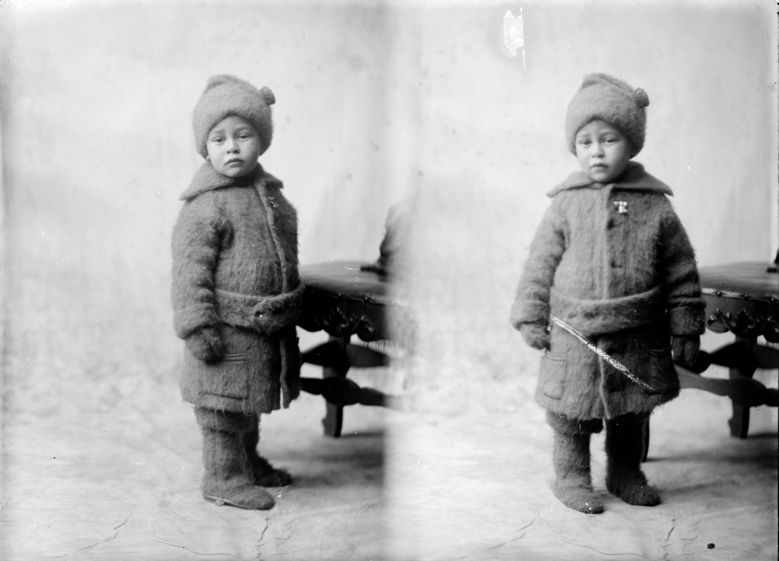 Carrie Coles ("Indian" Costume) X00407A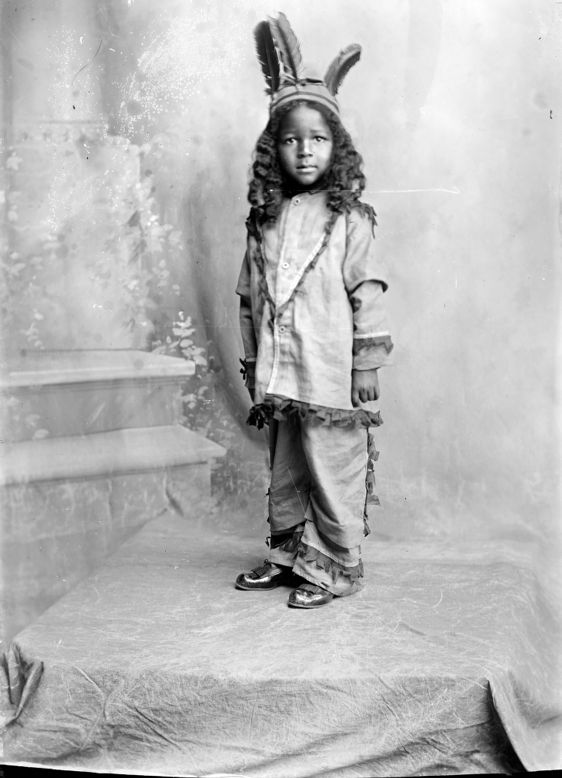 Rival Studios
-Some of the earliest studios were Tyson & Perry (CB1026) (related, Perry & Drane) and William Roads (CB1027) [William Roads (P48015)], with both producing photographs dating from at least the 1860s (based ondated photographs as well development processes used). An early daguerreotypist was W. A. Retzer (P48025) (CB1033) (with a daguerreotype dated 1850). Photographer A. F. Smith (P48023) produced albumen prints (exact dates unknown, but at least as early as 1870), some labelled "A. F. Smith's Photographic Temple of Art, Lobban's Building, Main St., Charlottesville, Va" (CB1032). Another known early photographer was J. D. Merritt (P48024); his photographs labelled, "J. D. Merritt, Practical Photographer (at Frayzer's old stand), Charlottesville, Va" (CB1034). Other photographic studios (in Charlottesville/surrounding locales) were B. M. Clinedinst's (CB1141) Sunbeam Gallery (also known as B. M. Clinedinst's Gallery of Fine Arts); Johnson & Hemming, Photo Artists (CB1030); H.F. Gamble (CB1149); P. Drane Art Studio (related, Perry & Drane) (CB1029); and J.T. Wampler (P48130) of Wampler's Studio (CB1031) (205 East Main, see 1893 ad, above). City Studio (CB1065) and Wampler's Studio were eventually bought out by Holsinger at some point in the early 1890's (the former is listed in the Charlottesville Business Directory as late as 1902). Advertising in Madison Hall Notes, (weekly publication of UVA's Young Mens Christian Association) in 1905, another rival studio was Seabrook Bros. (CB1143) at 403 E. Main Street, which described themselves as "high-class photographers" with "all work strictly first-class." Although Holsinger continued advertising in Madison Hall Notes in 1906, Seabrook Bros. no longer did. More research is needed to determine the life-span of these rival studios, although some were bought out and, presumably, shut down against the long-lasting Holsinger studio. From the Charlottesville City Directory, 1914-15, the only other photographer listed is the "New Era / Gitchell's Studio" (J D, F L and C M Gitchell), 403 E Main") (CB1144).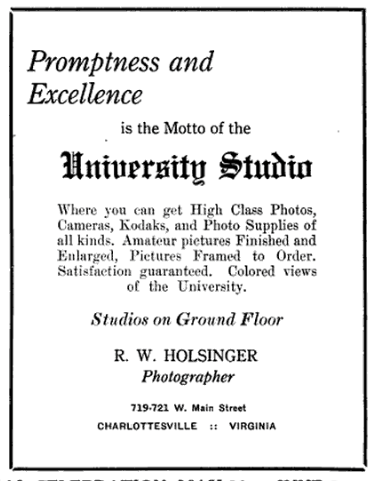 The logo for City Studio can be seen at the bottom right in the print below ("Charlottesville Woolen Mills," 1920):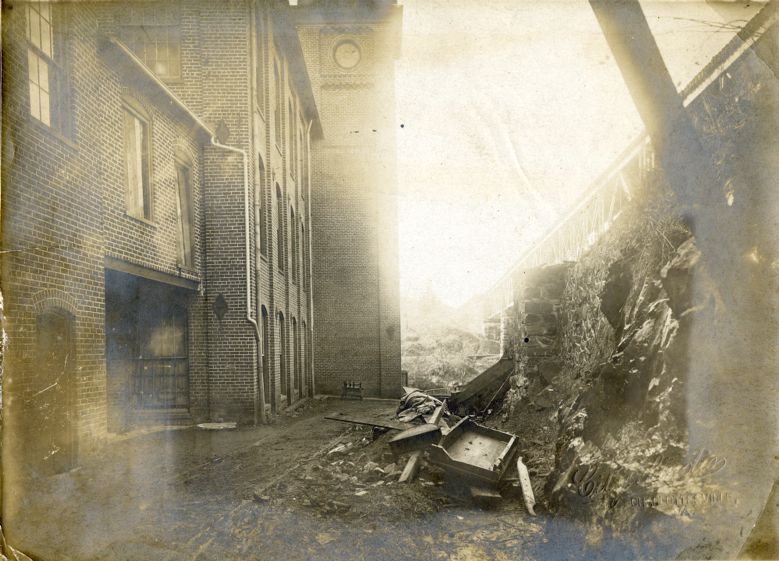 Backdrops
- Approximately ten different backdrops were used in the portrait studio photographs. The backdrops appear standard for studios at this time.

Overwhelmingly, the most-used backdrop is one with a column on the right, foliage on the bottom right, and a curve of curtain on the top right: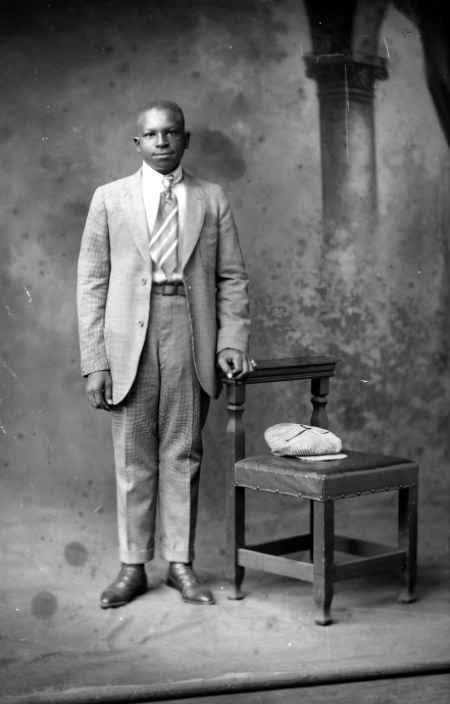 - Blank/blurred backdrop (one with a "blank space"/blurred background of single color, appearing white/grey in the photos):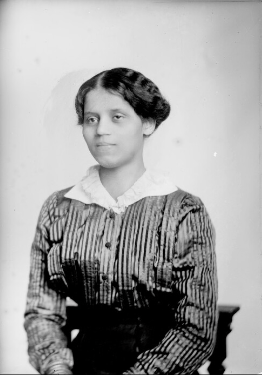 - Interior scene, "library"/interior background with shelves of books, partially covered by drapery: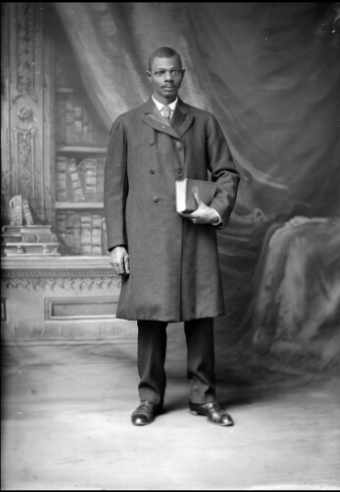 - "Raised" column (plinth visible) on the left, with floral detail on the bottom left, exterior scene: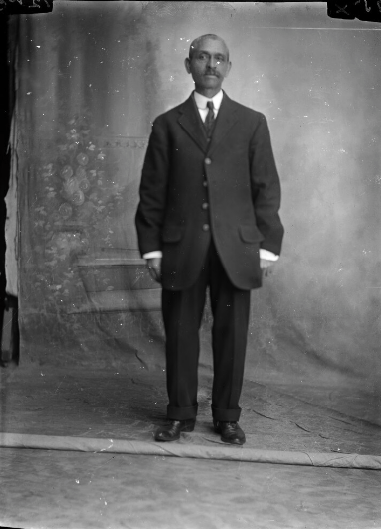 - Exterior scene, half-wall (stone/brick) background with ivy foliage: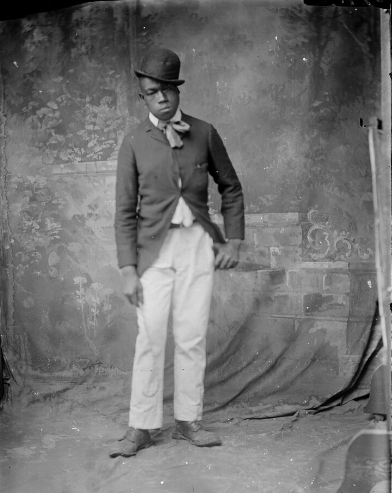 - Left column, sillhouetted leaves, sillhouetted trees backdrop: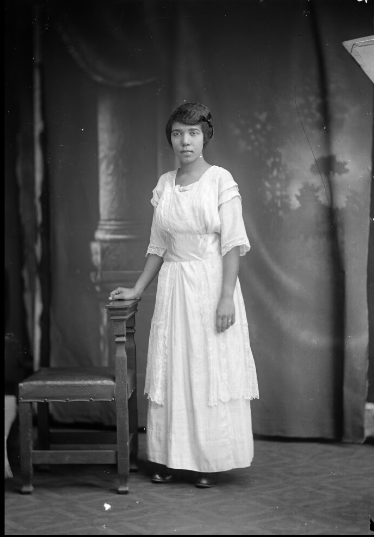 - (Rarely used) ackdrop with a floral meadow detail across the bottom: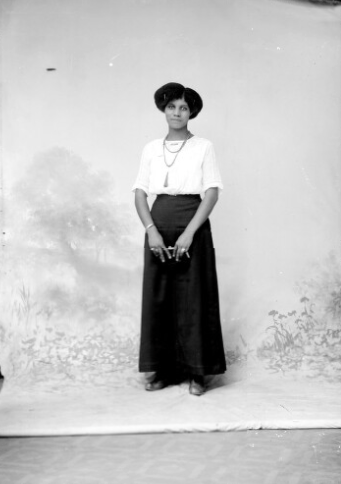 - (Rarely used) curtained, interior scene, foliage backdrop with latticing detail: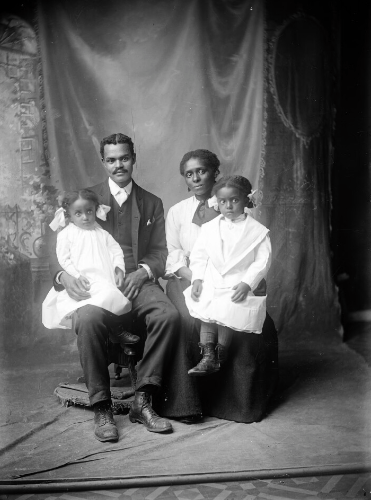 - (Rarely used) exterior backdrop with river, shadowed landscape on the bottom half: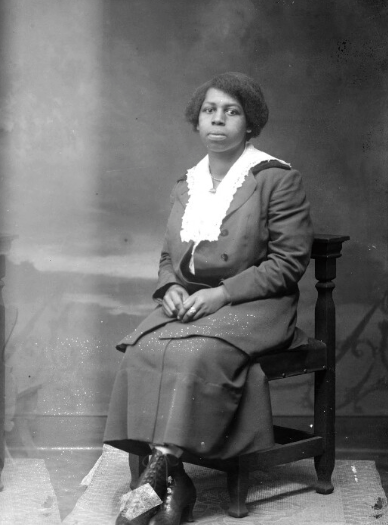 - A simple backdrop with drapery: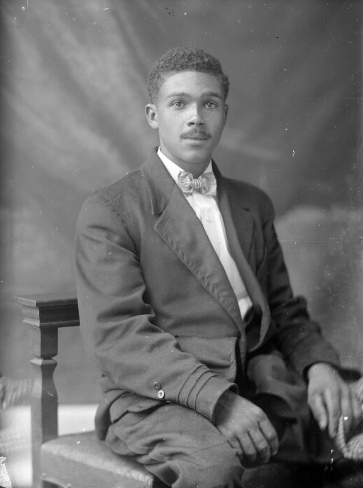 Return to the Holsinger Main Page
Sources
Brennan, Eryn S. and Margaret Maliszewski. Charlottesville: Images of America. Charleston: Arcadia Publishing, 2011.
Clover, Wendell Cecile and Heblich Jr., F. T., Holsinger's Charlottesville: A Collection of Photographs by Rufus W. Holsinger. Charlottesville: Art Restoration Services, 1995.