Holsinger Photography
Cite This Entry
APA Citation: Munro, J.F. (2022, May 9). Holsinger Photography. Holsinger Portrait Project. https://juel.iath.virginia.edu/node/980
MLA Citation: Munro, Julia F. "Holsinger Photography." Holsinger Portrait Project. Univ. Virginia (2022, May 9). Web. [Date accessed].
Link to Online Gallery of Holsinger Portraits of African Americans
See also: List of Names, The Holsinger Studio Space, Holsinger Studio Photo Editing


Rufus W. Holsinger (P48008)
- R. W. Holsinger, born February 22, 1865, died October 9, 1931; active as commercial photographer from at least 1891 through 1930 (exact dates of studio unknown; bought out rivals City Studio and Wampler's late 1880's to early 1900's). The full cataloge of his work shows Rufus to have produced photographs from approximately 1889 to 1930, with his son Ralph active from ~1920 to 1939.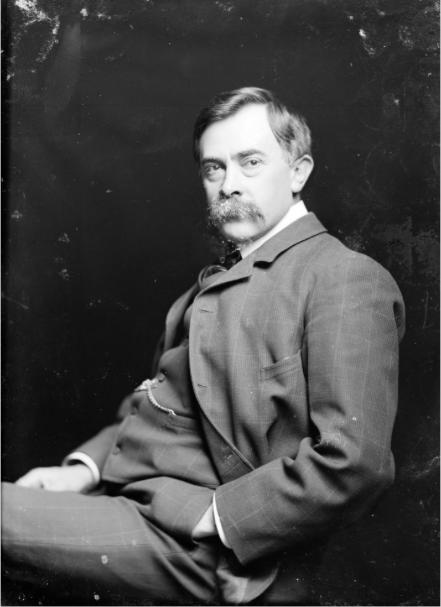 - Significant Charlottesville photographer operating Holsinger's Studio (also known as "University Studio" or "University Studio Charlottesville"). The specific dates of operation are not definitive; the earliest photographs in the UVA collection are dated 1889, while his obituary in the Daily Progress states his working from 1891 through to 1930. Son Ralph W. Holsinger was a photographer alongside Holsinger Sr., and was thought to have run the studio until his retirement in 1969 (with the studio remaining open until 1977); the Daily Progress, however, lists daughter Ethel Holsinger as operating the studio.
- Earliest dates in the Holsinger Studio Collection (UVA Library Catalogue) are December 6, 1889 (earliest photograph labeled to depict an African American: "Henry Thomas Boiler Charlottesville, January 26 1890").
- The studio (CB1025) was the most prominent one in Charlottesville in the time period; located on 719-721 West Main Street (moved by Ralph in 1935 to 908 West Main Street). Careful ledgers were kept of Rufus's business; a studio fire in 1912, however, destroyed early ledgers (early 1890's onward) and some negatives.

- Spouse Sallie (known as Sadie) Leland Anderson Holsinger (P48010); married 20 January 1896. Sadie Holsinger was one of the first two women to attend the UVA Summer School (State Peabody Normal School, 1895). b. April 16, 1872 d. June 3, 1933.
- Children: Ethel Holsinger (P48011) b. March 3, 1897 d. January 4, 1980; Ralph Waldo Holsinger (P48009) b. December 1, 1906 d. March 6, 1996. (Additional children mentioned in some sources are Mable Marion Holsinger (P48012) and Mary Holsinger (P48013), both of whom died in infancy/ early youth respectively).
- Lived on 1021 Wertland Street, Charlottesville (From the Charlottesville City Directory, 1914-15: occupants at 1021 Wertland Street listed as Miss Ethel Holsinger, Norman Holsinger, R W Holsinger)


- A related company that was in competition with Holsinger for photographic supplies was "The Book Store, Brechin A C & Son," 200 E Main Street (1914-15 Directory).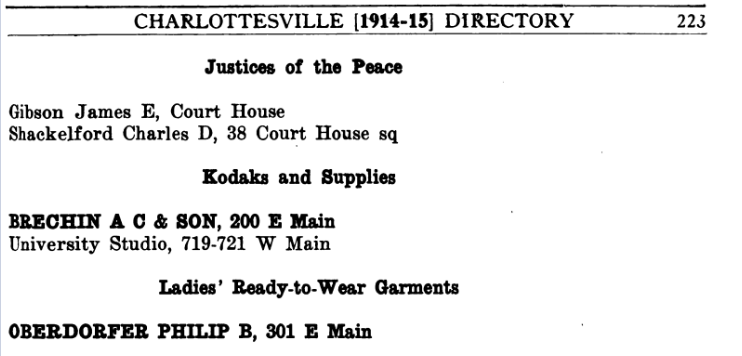 - Rufus Holsinger involved in the sale of four properties on Page Street, Charlottesville, from the years 1902-1928. This street was known (particularly in the early 20's and onward, as seen in rental/sale records) for housing that was rented to working-class African Americans
- In 1912, Holsinger was commissioned to provide a complete photographic documentation of Jeffersons's Monticello (interior and exterior of home and grounds)
- Holsinger's Studio was arguably the most significant studio in Charlottesville in the time period/Holsinger the foremost photographer, as can be ascertained by several factors (his being the photographer of people of national signifance; the quantity of photographs he produced; his taking over local studios; his being the Treasurer of the Photographic Association of America, and so on). In the competitive photographic market of the late nineteenth-century, Holsinger seemed to have distinguished himself in photographing not only "fine clientele" or events but, evidently, producing portraits of persons from all economic classes (evidently, not advertising itself solely as an "exclusive" studio).
- Of significance is that Holsinger's oevre is held in its entirety at the University of Virginia; a collection of approximately 10,733 images (9,782 images attributed to Rufus W. Holsinger; 904 to his son Ralph). Of the Holsinger body of work, the predominant portion (approximately two-thirds) are portraits (including, significantly, at least 600 of African Americans) created in studio, but there are a fair number of location shots (of UVA, notably) of places and persons (ranging from local workers to national figures such as President Calvin Coolidge). To be able to examine his work as a whole - to see the breadth of portrait subjects and locales, the changes in studio techniques, subject poses, style, and so on over time - is unusual and significant in that the images together provide ample evidence of the evolving cultural norms, attitudes, and behaviors of Charlottesville's citizens, black and white together/towards one another (source: "The Holsinger Studio Collection").
Holsinger's Studio

For more details, see The Holsinger Studio Space (see also: Holsinger's and Contemporaries' Photography Image Gallery)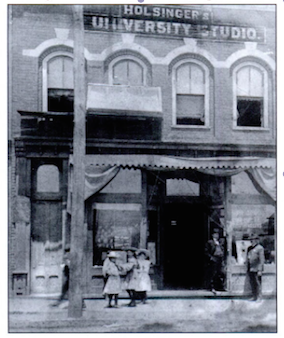 - Located at 719-721 West Main Street, Charlottesville; long-time employees include son (and eventual owner of Studio) Ralph Waldo Holsinger and local African-American man, Horace Porter (P48016). The dates of employment are unclear. Family members as well as employees can be seen in portraits (including family cook, Lena [P48017]). The Charlottesville City Directory, 1914-15, lists the following as employees of Holsinger's Studio: "William E. Eutsler (P48198), photo University Studio h 1200 Wertland" and "Claudius B. McCollister (P48199) photo University Studio h 715 W Main." [Horace Porter is listed in the 1914-15 Directory as well, though not listed in relation to Holsinger: "Horace Porter, porter h Hartman's Mill rd nr Ridge extd." He was married to Viola Green.] Other known employees include Russell L. Hiserman (City Directory 1902, p. 61).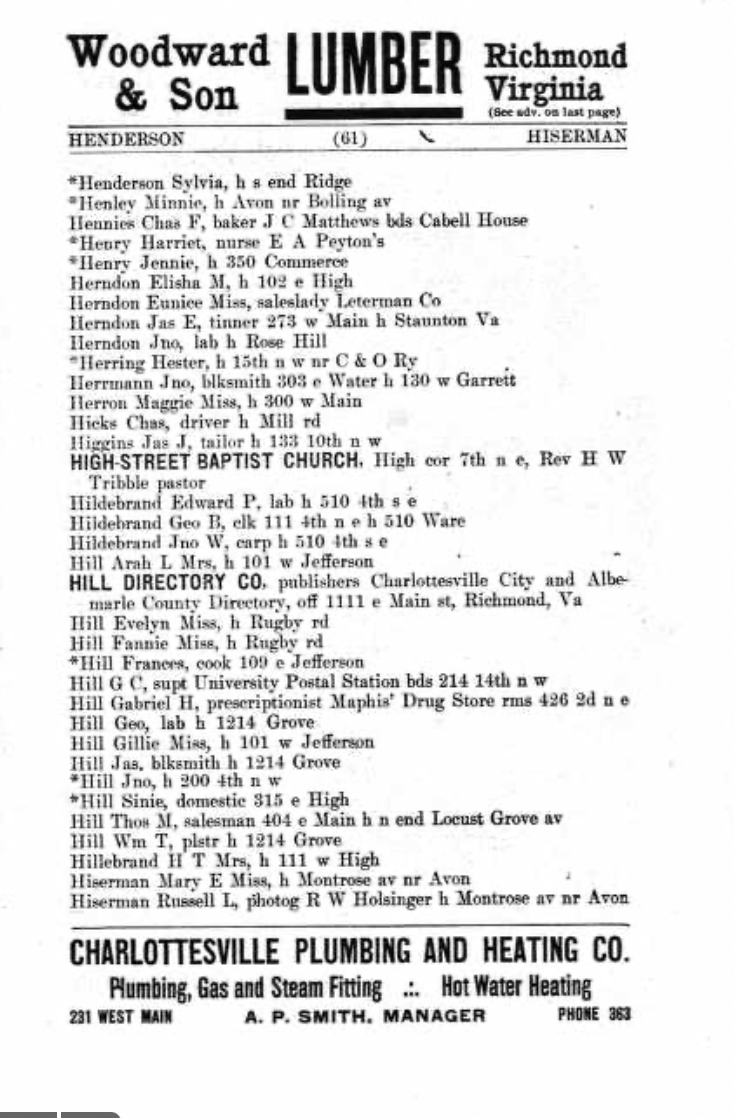 (Below: photographer's and assistant's shadow)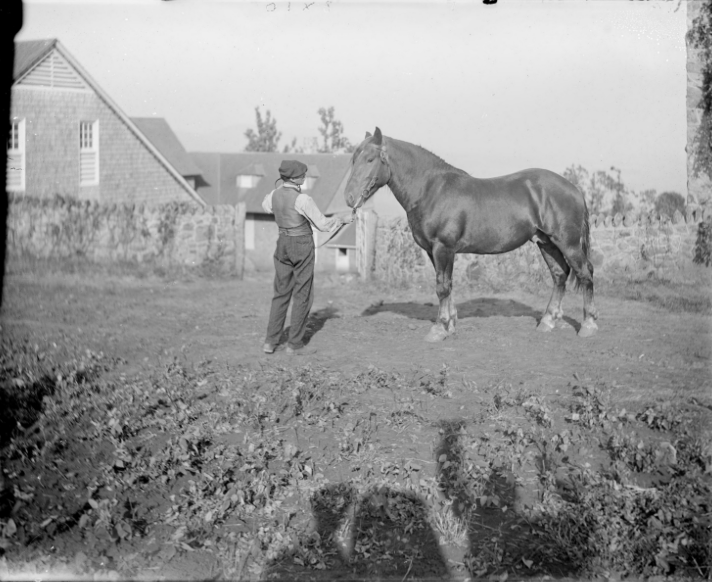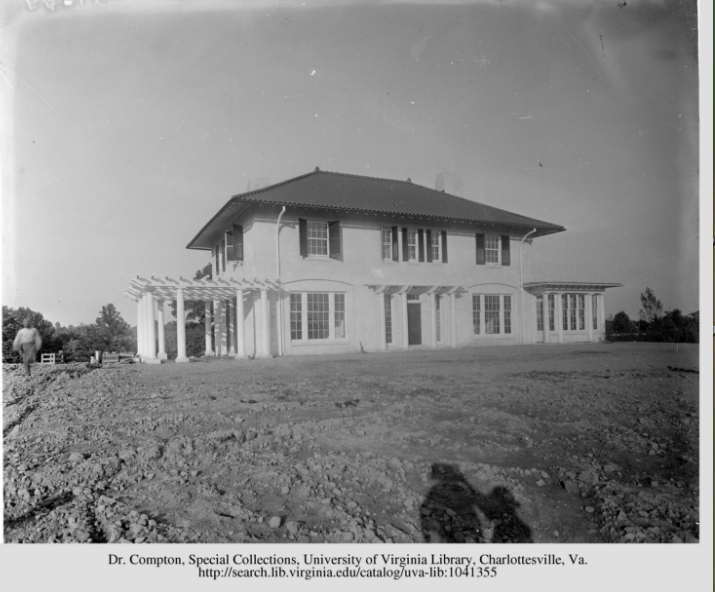 - Some of the earliest studios were Tyson & Perry (CB1026) (related, Perry & Drane) and William Roads (CB1027) [William Roads (P48015)], with both producing photographs dating from at least the 1860s (based ondated photographs as well development processes used). An early daguerreotypist was W. A. Retzer (P48025) (CB1033) (with a daguerreotype dated 1850). Photographer A. F. Smith (P48023) produced albumen prints (exact dates unknown, but at least as early as 1870), some labelled "A. F. Smith's Photographic Temple of Art, Lobban's Building, Main St., Charlottesville, Va" (CB1032). Another known early photographer was J. D. Merritt (P48024); his photographs labelled, "J. D. Merritt, Practical Photographer (at Frayzer's old stand), Charlottesville, Va" (CB1034). Other photographic studios (in Charlottesville/surrounding locales) were B. M. Clinedinst's (CB1141) Sunbeam Gallery (also known as B. M. Clinedinst's Gallery of Fine Arts); Johnson & Hemming, Photo Artists (CB1030); H.F. Gamble (CB1149); P. Drane Art Studio (related, Perry & Drane) (CB1029); and J.T. Wampler (P48130) of Wampler's Studio (CB1031) (205 East Main, see 1893 ad, above). City Studio (CB1065) and Wampler's Studio were eventually bought out by Holsinger at some point in the early 1890's (the former is listed in the Charlottesville Business Directory as late as 1902). Advertising in Madison Hall Notes, (weekly publication of UVA's Young Mens Christian Association) in 1905, another rival studio was Seabrook Bros. (CB1143) at 403 E. Main Street, which described themselves as "high-class photographers" with "all work strictly first-class." Although Holsinger continued advertising in Madison Hall Notes in 1906, Seabrook Bros. no longer did. More research is needed to determine the life-span of these rival studios, although some were bought out and, presumably, shut down against the long-lasting Holsinger studio. From the Charlottesville City Directory, 1914-15, the only other photographer listed is the "New Era / Gitchell's Studio" (J D, F L and C M Gitchell), 403 E Main") (CB1144).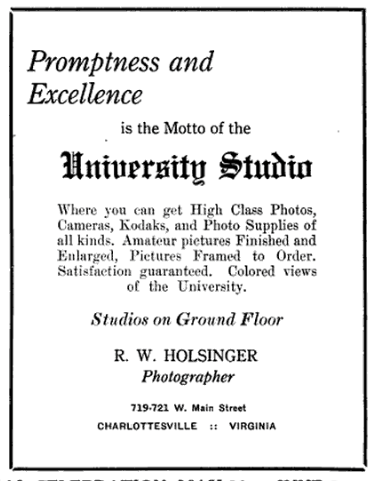 Advertisement for the New Era Photography Studio (a competitor of Holsinger's) (X04317B1), 1916-07-14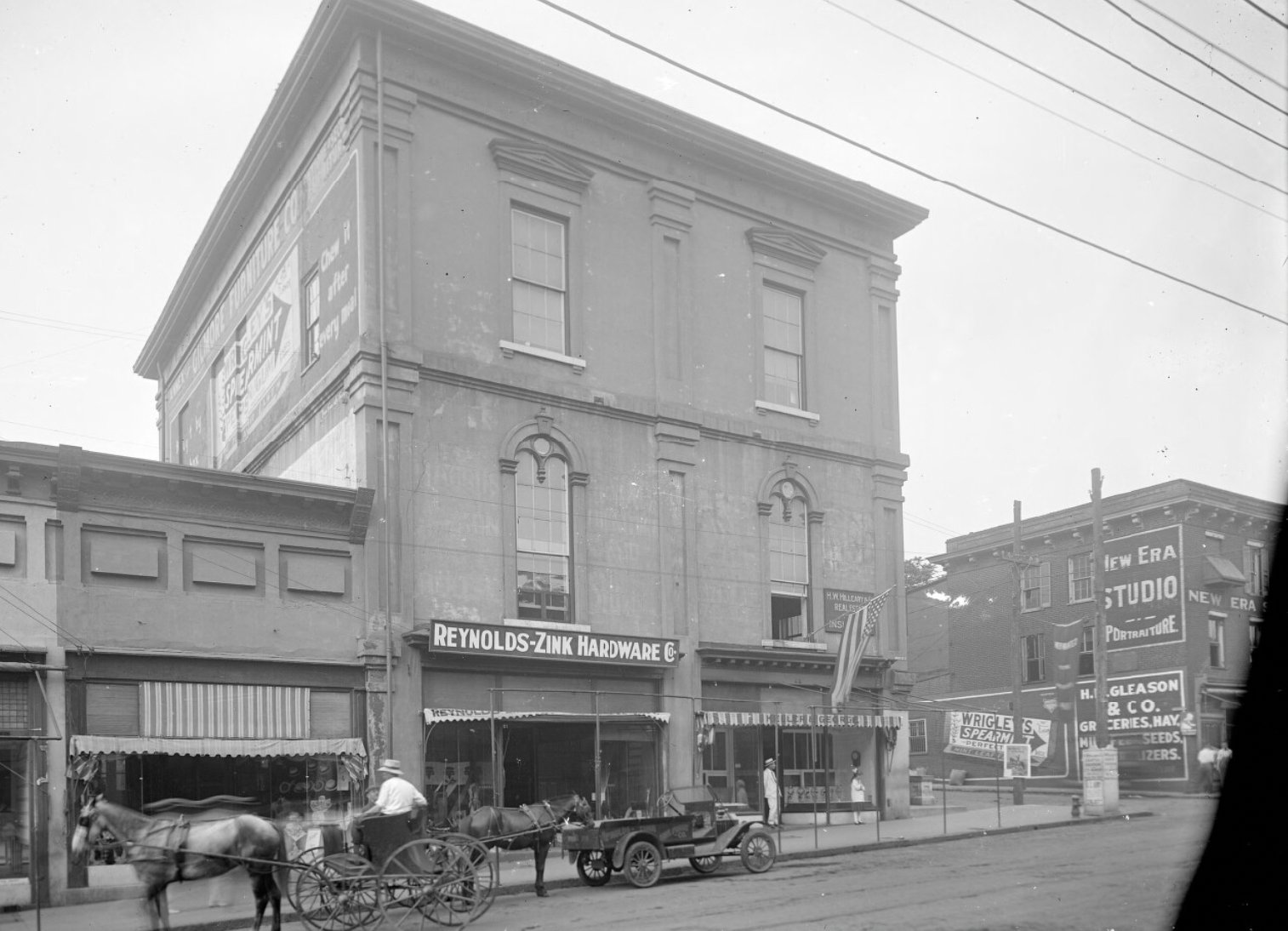 Holsinger's African-American Portraiture: An Overview
NEW: Link to Holsinger's Photographs of African Americans Image Gallery
The link above provides access to all the known portraits/photographs of African Americans by Holsinger (Senior, as well as son Ralph) in his total collection of photographs housed by the University of Virginia: 611 images out of a total of 9,782. Most of Holsinger's photographs were produced using the dry glass-plate negative method (500 were celluloid negatives, likely later photogrpahs by son Ralph W. Holsinger ["The Holsinger Studio Collection"]). As can be seen in the Image Gallery, nearly all images in the University of Virginia Library collection are scans of the negatives (rather than the actual paper photograph that clients would have purchased). As a result, we do see interesting details of Holsinger's studio - the backdrops, accessories, even employees - that would otherwise be cropped out of the final image.
As can be seen in the above gallery, the images vary in poses and backdrops, but are certainly conventional for the time period. Adults are seated or standing, usually leaning, against a chair; adults are posed alone, as couples, or least frequentally, in family groups. Sitters usually have a serious or serene expression, or a slight smile - which again was typical of the late nineteenth-/early twentieth- centuries. Infants are propped up on rugs or blankets and often steadied by an adult (the mother or studio employee). Children and women are sometimes posed facing or gazing out a window in a conventionally picturesque pose.
Where Holsinger's images are unique, however, is that these conventional photographs of autonomous individual subjects are of African Americans; a group of persons whom, unfortunately, were more often depicted as unflattering cariacatures of racial stereotypes. With Holsinger's body of portraits, we see persons photographed with the dignity and gravitas that was a given for white sitters. Thus, while the images may be typical in their use of conventional subject gestures, poses, stances, costume, accessories, and so on, they are at the same time rather atypical in depicting African Americans with the grace, authority, and assertion of identity that portraiture conveys. The dignity of portraiture is something that the sitter would surely have sought, in having his or her portrait taken, and, the viewer would surely recognize. For, although portrait photography was yet quite a new art - photography itself invented in 1839 - it took little time to figure out how to best portray the sitter (both in terms of what the technology afforded, such as shutter speeds and the use of braces to still the sitter, and in terms of what was the most flattering appearance ). Additonally, conventions in pre-photographic portraiture certainly had bearing on the photographic art (such as the difference in meaning if the subject is looking "at" the viewer, versus looking demurely away).
By the late 1890s through 1930s, when the body of Holsinger's work was created, the conventions of photographic portraiture were certainly well in place. Holsinger would have been aware of these techniques and the visual culture in which he operated: not just the typical ways in which to depict a sitter in photographs and figural art but also the typical way sin which the Black Subject was depicted, whether in photographs or other figural art (unfortunately, most often the grossly-exaggerated cariacatures that proliferated in advertisements, illustrations, travelogues, scientific reportage, and so on). To present the African-American sitter as he or she was, as a person, was to work against this enduring stereotype, one which would have been far too familiar to the average viewer in this time period. One need only look no further than a few streets up from Holsinger's studio to see such stereotypical depictions - in Corks and Curls, the yearbook of law students at the University of Virginia. The 1892 edition contains the below photo vignette, "Two Little Virginia N-----s," which not only shows the "pickaninny" stereotype in play, but in photographic form as well: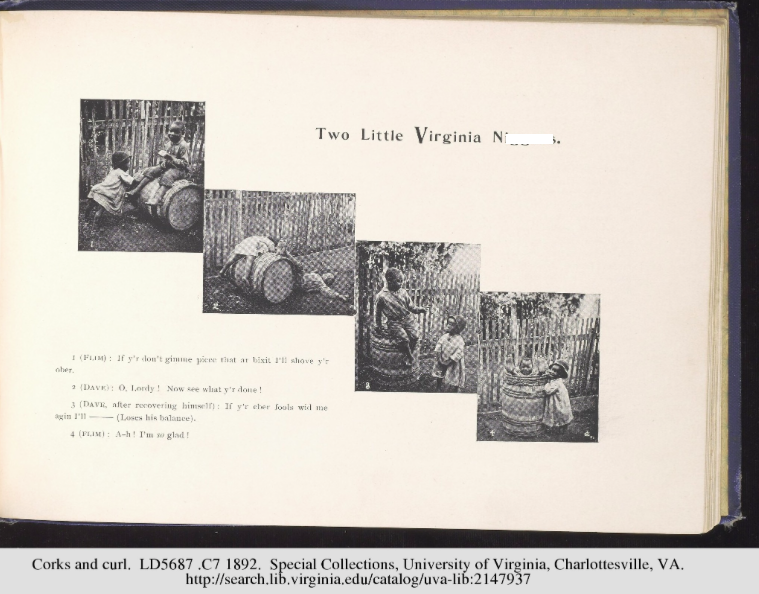 As can be seen as well in the gallery, most images have a name associated with them (attributions by the University of Virginia Library).
*any photographs prior to the 1912 studio fire are rare (negatives or prints)
The portrait below, "Fourth of July Pageant at the University of Virginia," is by photographer Jackson Davis (dated July 4, 1911). Although not by Holsinger, it does show the not-uncommon use of blackface in this time period (at least two of the four men standing, below):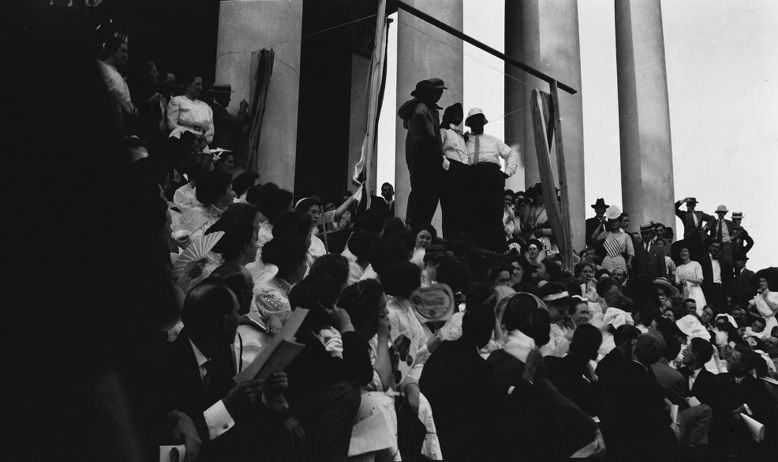 Sources
Clover, Wendell Cecile and Heblich Jr., F. T., Holsinger's Charlottesville: A Collection of Photographs by Rufus W. Holsinger. Charlottesville: Art Restoration Services, 1995.
"The Holsinger Studio Collection." Albert and Shirley Small Special Collections Library. https://small.library.virginia.edu/collections/featured/the-holsinger-st.... Accessed 12 January 2022.
"Fourth of July Pageant at the University of Virginia," photograph, Jackson Davis, 4 July 1911, University of Virginia Library