Wampler Photography Studio
    by J Munro
JUEL ID/KEY: CB1031

J. T. Wampler (James Thomas) (P48130) appears to have been one of the main competitors of Holsinger. His studio was located at 205 East Main Street, Charlottesville. He held studios in Baltimore, Charlottesville, and Fredericksburg, VA., and appeared to practice photography until 1898, at which point he oversaw the Culpepper, VA newspaper Enterprise.
Wampler's Studio was in operation along with City Studio (CB1065), at the same time as Holsinger began University Studio in the early 1890's (exact date unknown). Both were bought out by Holsinger shortly after University Studio opened; the exact date is unknown, although City Studio was listed as open in the Charlottesville Business Directory of 1902. The exact dates of operation are not yet known.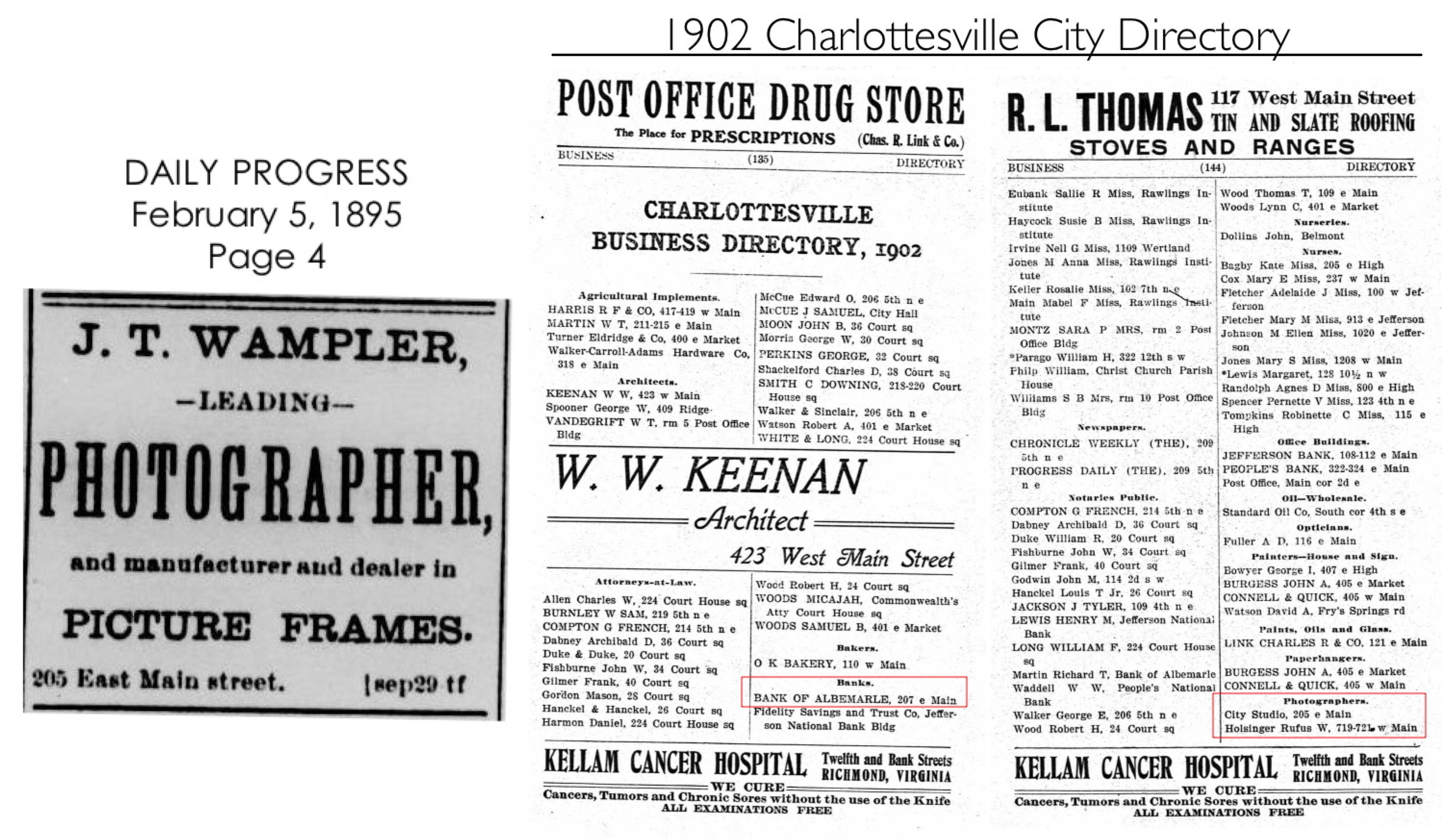 An April 10, 1897 article from Waynesboro Sentinel states:
W. P. Rhodes, Staunton's most popular photographer and proprietor of the well-known Star Gallery, has removed to Charlottesville where he has formed a co-partnership with J. T. Wampler. Mr. Wampler has for many years been the leading photographer of Charlottesville and his connection with Mr. Rhodes will add much to the beauty and finish of the work that will hereafter be executed by these gentlemen. Mr. C. R. Clary who was with Mr. Rhodes in his Staunton gallery, will still continue with him in the new firm. Both Mr. Rhodes and Mr. Clary have a record of being swift, accurate photographers and their photo work is unexcelled.
As per the Charlottesville Daily Progress:
To the citizens of Charlottesville and Virginia - Having disposed of my gallery to Messrs. Rhodes and Carter, in retiring, I would bespeak for them a continuance of the liberal support I have received. Mr. Rhodes is a practical photographer of twenty years experience. Give him a trial and be convinced of his ability. With gratitude for the confidence and patronage bestowed upon me I am very respectfully J. T. Wampler" (April 9 1898, p 1).
Wampler's studio was known as Wampler's; Excelsior Photographic Art Gallery; Excelsior Art Gallery.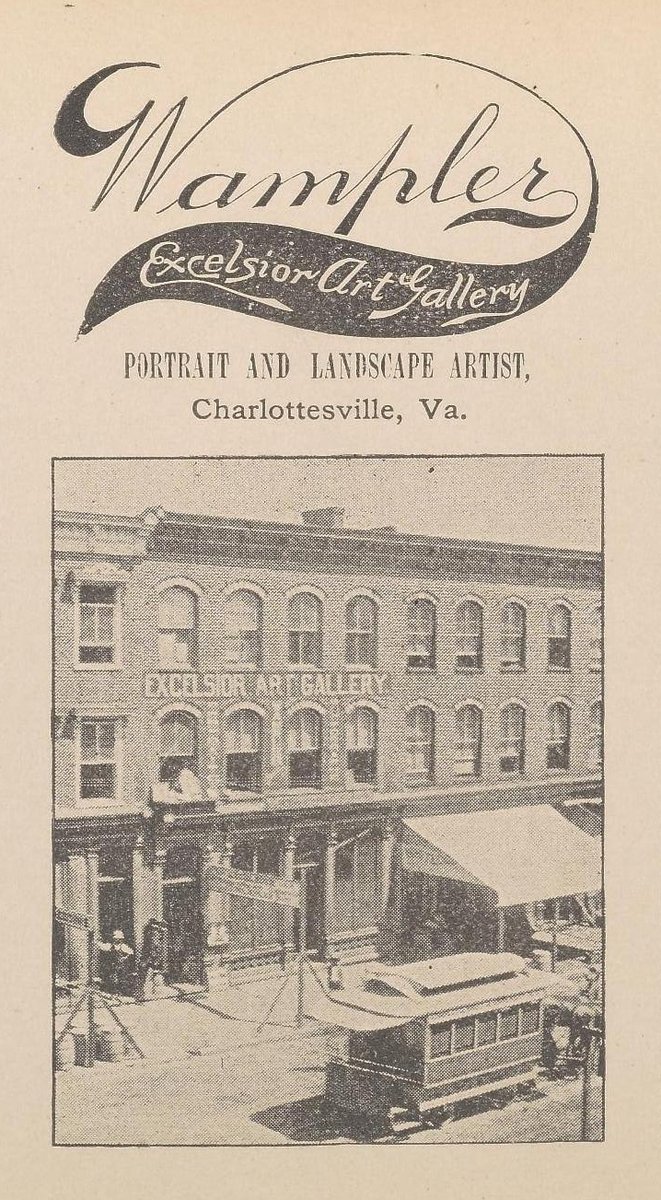 Above: 1889 Corks and Curls advertisement
PRIMARY SOURCE INFORMATION
1. References to the Individual in the JUEL Digitized Transcripts
(Links below are to JUEL's full-text digital transcripts of primary sources that refer to the individual. If no links display, this indicates that either the JUEL digitized texts have not yet been tagged with the individual's ID/Key, or, that no reference is made to the individual in any JUEL digitized texts, or, that the primary source has not yet been digitized).
2. Library Call Numbers/Bibliographic Records
Corks and Curls, 1889, n.p.
Daily Progress, 9 April 1898, p. 1
Encyclopedia of Virginia Biography, Volume 5, pp.596-7 (courtesy of Jane Smith)
Waynesboro Sentinel, 10 April 1897
Return to the Holsinger Main Page