Seabrook Bros. Studio
    by J Munro
JUEL ID/KEY: CB1143

The Seabrook Bros. was a photography studio located at 403 E Main Street, Charlottesville in 1905. Advertising in Madison Hall Notes, (weekly publication of UVA's Young Mens Christian Association) in 1905, Seabrook Bros. described themselves as "high-class photographers" with "all work strictly first-class." Although Holsinger continued advertising in Madison Hall Notes in 1906, Seabrook Bros. no longer did. The exact years of operation, and by whom, are not yet verified. Note that the "New Era / Gitchell's Studio" (CB1144) was also located at 403 E Main Street at a later date (1914-15).
The following Studio ad appeared forty times in Madison Hall Notes 1905-6: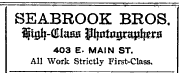 PRIMARY SOURCE INFORMATION
1. References to the Individual in the JUEL Digitized Transcripts
(Links below are to JUEL's full-text digital transcripts of primary sources that refer to the individual. If no links display, this indicates that either the JUEL digitized texts have not yet been tagged with the individual's ID/Key, or, that no reference is made to the individual in any JUEL digitized texts, or, that the primary source has not yet been digitized).
n/a
2. Library Call Numbers/Bibliographic Records
Seabrook Bros. Studio advertisements. Madison Hall Notes 1905-6: vol.1 (September 16, 1905-June 9, 1906).
Return to the Holsinger Main Page