Faculty and Staff of the Academical Village
Julia Munro
See also: list of RECTORS and EARLY PROCTORS AND PATRONS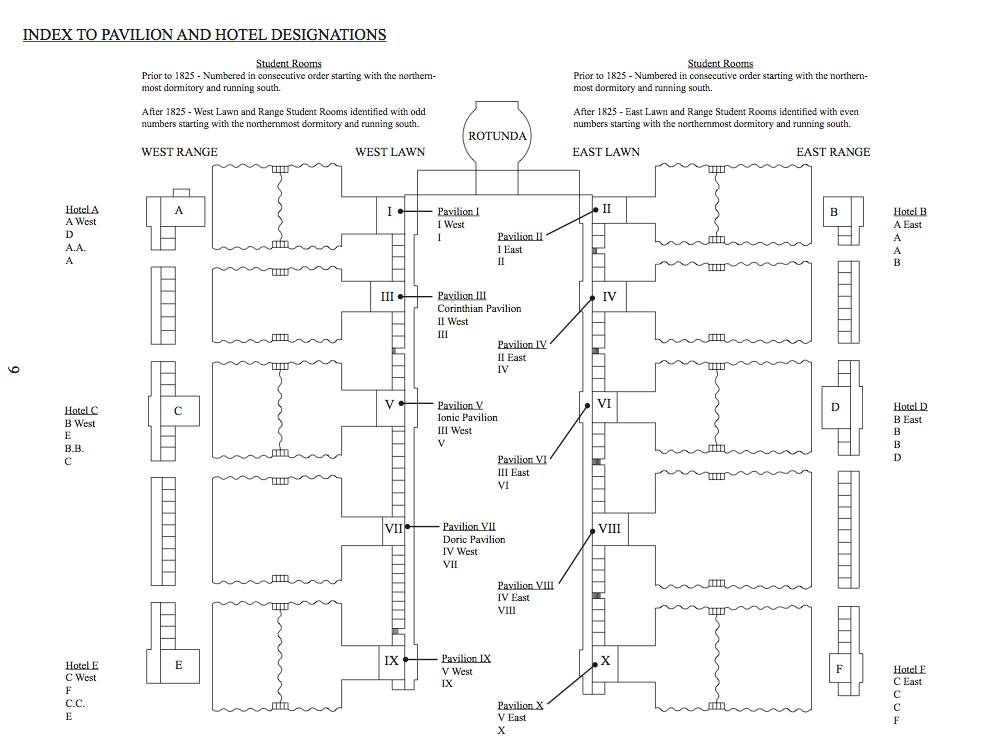 Like the students who lived in assigned lodging, or "Hotels" within the Academical Village, so too did Faculty live in the Village in one of the ten Pavilions. Within these domains, the faculty member was the head of a household that included not only his family (most often a spouse and children), but also his servants and sometimes their family members as well. Spanning several floors, the faculty and his family would live in the main and upper levels while the servants would be housed in the lower-level cellar ("kitchen" or "dining room") or adjacent "outbuildings," with servants and their family members not always housed within one home. A description from the Chairman's Journal of 1836, for instance, reveals this not-uncommon housing situation, the Chairman noting:
"I was informed to day by Mr. Penci (P43877) that the servants in the University are in the habit of furnishing expensive suppers to the students; & that a small negro boy who is often going about selling apples to the students, frequently carries breakfast to their rooms [. . .] This boy belong[s] to no one in the University, but liv[es] with a free woman, the wife of Dr. Magill's (P43655) servant, in the basement of Mr. Roger's (P43658) house [Pavilion VI, PL8458], …" 1

It should be noted that family members of faculty were not always within one unit, with sons and relatives sometimes living in other Pavilions or lodgings off-campus, and that Faculty households would move from one locale to another. Although it is not always clear who lived in which Pavilion, and when, provided below are tables detailing Pavilion occupants in the JUEL timeframe of 1819 to 1870.
The initial Pavilion structures, as well as the repairs, renovations, and additions recorded over the years, reveal much about the familial lives of faculty, the often-tumultuous interactions between faculty and their student neighbors, and the fascinating relationships between faculty and their servants. Our knowledge of the early life of Jefferson's university is greatly enhanced by this "blueprint" of Pavilion occupants and their neighboring hotels, outbuildings, and other notable features necessary to a living space and learning space: privies, icehouse, gardens, animal pasture, pond, the recreational space of the lawn (and the rules governing its usage by whom, and when), the library within the Rotunda, the Anatomical Theatre and storage of its specimens, even the paths leading without the Village.
JUEL not only provides a digitized blueprint - via the Visualizations section - but also access to the primary sources via its databases. You can search the databases directly in Search, or, use the IDs provided in the tables below to start your exploration.
1 Journals of the Chairman of the Faculty, March 3, 1836, n.p.
Note: The list below provides the JUEL ID/key, or unique identifier, for each Pavilion and occupants; use the ID to search for references to that person/place in the primary records of the JUEL database (click on the IDs below, or go directly to the Search page).
The information below was primarily derived from the University of Virginia Office of the Architect Historic Structure Reports.
EARLY FACULTY AND THEIR PAVILION RESIDENCES

Pavilion I PL8438
Dr. John P. Emmet (P43625). 1823-34
University Chaplains 1834-42 (Cobbs, Ryland, Tustin, Wilmer, Doggett, J.B. Taylor, W.S. White, W.M. Jackson)
Edward H. Courtenay (P43677). 1842-54
Alfred T. Bledsoe (P43740). 1854-61
Basil L. Gildersleeve (P43681). 1861-76
Pavilion II PL8442

Dr. Thomas Johnson (P43633). 1829-1834
Augustus L. Warner (P43656). 1834-37
Dr. James Lawrence Cabell (P39304). 1837-1889
Pavilion III PL8446
John Tayloe Lomax (P43630). 1826-30
John A. G. Davis (P33195). 1830-33
Dr. Alfred T. Magill (P43655). 1834-37
Dr. R. E. Griffith (P43661). 1837-39
Henry Howard (P43670). 1839-67
William E. Peters (P43684). 1867-1905
Pavilion IV PL8450
George Blaettermann Sr. (P45632). 1825-38
Charles Kraitsir (P43674).
Maximilian Schele de Vere (P43667).
Pavilion V PL8454
George Long. (P43620). 1825-28
Dr. Robert Maskell Patterson (P43634). 1828-?
Gessner Harrison (P25515). 1835-59
Francis H. Smith (P43721). 1859-1928
Pavilion VI PL8458
Thomas Hewitt Key (P43622). 1825-27
Gessner Harrison (P25515). 1828-1835
William B. Rogers (P43658). 1835-54(?)
Francis H (J.L.). Smith (P43721). 1854(?)-1859
Lewis M. Coleman (P43782). 1860-62
George F. Holmes (P43682). 1862-1898
Pavilion VII PL8462
Board of Visitors annual meeting accommodations 1828
J. A. Carr (Proctor) (P43651) and University Patron (Assistant to Proctor) 1831-2
Board of Visitors annual meeting accommodations, Proctor's office PL8726, additional lecture space 1833-6
Robley Dunglison (temporary) 1833
University general uses 1836-42
Board of Visitors annual meeting accommodations 1842-49
John Staige Davis, Sr. (P43680). 1849-1872.
Various other uses including temporary chapel, temporary library, and pavilion of medicine
Pavilion VIII PL8466
Charles Bonnycastle (P43623). 1825-1840 (Mrs. Bonnycastle: 1840-1)
Robert E. Rogers (P43678).
J.L. Smith (P43721)
Socrates Maupin (P43731).
John Staige Davis, Sr. (P43680).
Pavilion IX PL8470
George Tucker (P43619). 1825-45
William H. McGuffey (P43668). 1845-73
Pavilion X PL8474
Robley Dunglison (P43624). 1825-33
John A. G. Davis (P33195). 1833-40
Henry St. George Tucker (P43676). 1841-5
John Barbee Minor (P22874). 1845-95
The early proctors were responsible for a host of duties crucial to the administration and daily functioning of the university, including the collecting of all funds owed to the University. Between the years of 1832 to 1859, the Patron maintained the financial/accounting records of the University. The Office of the Proctor (PL8726) was located in the Hotel B Building (PL8433).