----, MILLY
    by Julia Munro
JUEL ID/KEY: P47775

Milly (last name unknown), adult female. Milly was a slave of Board of Visitors member and Rector (1864-5) Thomas Lewis Preston (P43698). What is known of her is through reference to her burial at the University of Virginia Cemetery (PL8510) in letters from Preston to wife Anna M. Preston, dated September 15 and 17, 1863: "I am just going down to make provision for Milly's funeral & will have it performed properly. Our servants are human beings & deserve the rights of Christian sepulcher." On the 17th, he continued, ". . . we buried Milly in the new cemetery. She was the first, & [I] selected a section for our servants when should they die here, they can be buried in families. The old grave yard is full. I also selected a section for us."
It is not known exactly where Milly is buried, and what Preston meant by "new cemetery" and "old grave yard." The original University of Virginia Cemetery (section A, in image below) was established in 1828 and certainly became crowded in the confines of its walled boundaries, such that by 1882 a new addition (section C) was completed. Prior to this, the only and first official expansion to the cemetery was an extension out of necessity for Confederate soldiers (mentioned July 1862), an approximately 200-foot by 228-foot square located west of the original burial grounds (section B). As written above, therefore, it would seem that Milly was buried in this new section, which at the time of Preston writing in 1863, was the only expansion.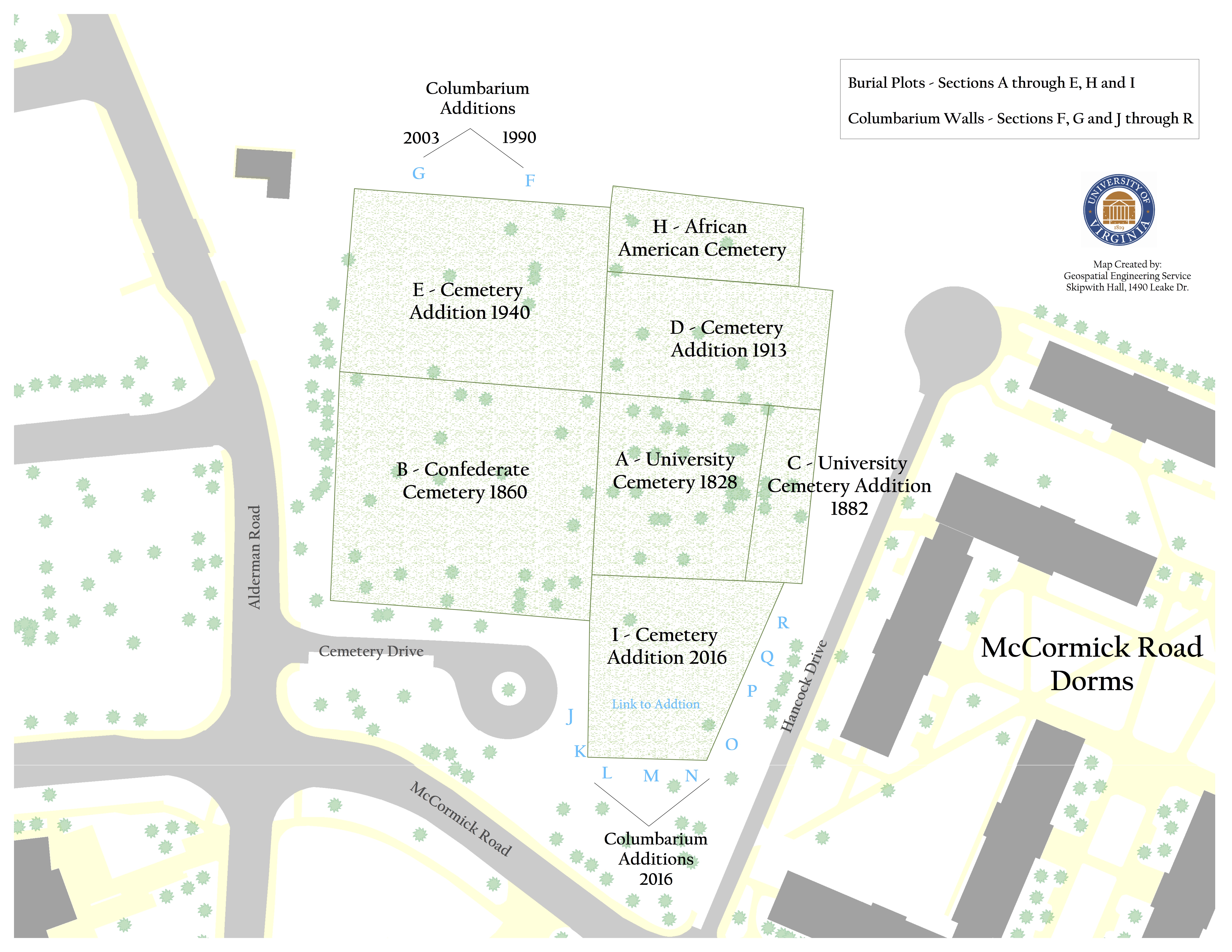 PRIMARY SOURCE INFORMATION
1. References to the Individual in the JUEL Digitized Transcripts
(Links below are to JUEL's full-text digital transcripts of primary sources that refer to the individual. If no links display, this indicates that either the JUEL digitized texts have not yet been tagged with the individual's ID/Key, or, that no reference is made to the individual in any JUEL digitized texts, or, that the primary source has not yet been digitized).
NOT YET DIGITIZED
2. Library Call Numbers/Bibliographic Records

Davis-Preston-Saunders Papers [Manuscript], 1840-1930, University of Virginia Special Collections Library, MSS 4591
Return to the List of African American Individuals