Eutsler, William E.
    by J Munro
JUEL ID/KEY: P48198
William E. Eutsler was an employee of R. W. Holsinger (P48008), working at Holsinger's photography studio in some capacity; dates of employment thus far are only known with certainty to be 1914-15, when he and only one other employee are listed (Claudius B. McCollister) in the Charlottesville City Directory, 1914-15. Likely he was assisting in setting up the studio, cameras, developing the film, assisting with the sitters, and even operating the camera himself (although Holsinger, as owner of the studio, would be attributed as the photographer, as is typical of the time period).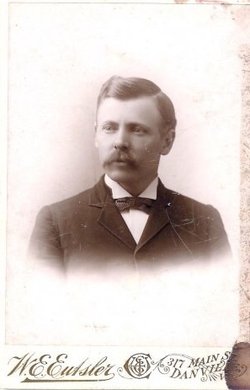 William Edward Eutsler (1859-1939) was a travelling portrait photographer, trained in Staunton, that was associated with the following Studios:
- Aldhizer & Eutsler Traveling Artists, Broadway, Virginia, c1880-c1884
- W.E. Eutsler Traveling Artist, Virginia, c1884-1888
- W.E. Eutsler, Roanoke, Virginia, 1888-1891
- W.E. Eutsler, Danville, Virginia, 1891-1896
- Eutsler Brothers, Danville, Virginia, 1896-c.1905
- S.L. Alderman, Greensboro, North Carolina, c.1905-aft.1908
- Alderman & Eutsler, Greensboro, North Carolina, c.1910
- Eutsler Studio, Greensboro, North Carolina, by 1911-1913
- Holsingers, Charlottesville, Virginia (no date provided)
(Find a Grave)
The Charlottesville City Directory, 1914-15 lists "Eutsler William E., photo University Studio h[ome] 1200 Wertland" (p81). Living at the same address was Miss Isabelle Eutsler and Miss Louis E. Eutsler (below):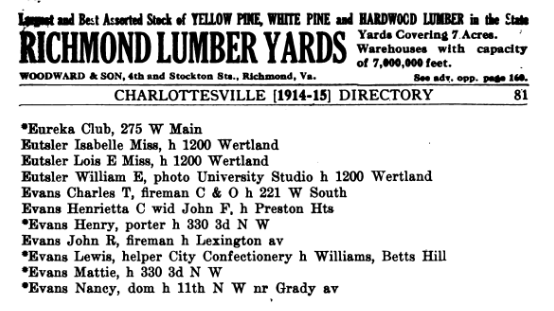 (Note: R. W. Holsinger's Studio produced three images labelled, "Eutsler Brothers Albemarle County" dated August 3, 1914. It is unclear if the Eutsler men pictured in the images are related to the employee William).
PRIMARY SOURCE INFORMATION
1. References to the Individual in the JUEL Digitized Transcripts
(Links below are to JUEL's full-text digital transcripts of primary sources that refer to the individual. If no links display, this indicates that either the JUEL digitized texts have not yet been tagged with the individual's ID/Key, or, that no reference is made to the individual in any JUEL digitized texts, or, that the primary source has not yet been digitized).
n/a
2. Library Call Numbers/Bibliographic Records
Charlottesville City Directory, 1914-15 [Hathi Trust]
William Edward "Will" Eutsler Memorial, Findagrave.com
Return to the Holsinger Main Page