MARTIN, HENRY
    by Julia Munro
JUEL ID/KEY: P46982
NEW: Related Documents and Transcript of letter dictated by Martin, Feb 15, 1909
Henry Martin (William Henry Martin, July 4, 1826 to October 5, 1915) is perhaps one of the most well-known of African Americans associated with the early years of the University of Virginia, in part due to his long career at the University as "Bell-Ringer," a posting he fulfilled until retirement in 1909 (Corks and Curls). The photo below (likely taken by Miss Anna Berringer, around 1897-1900, in the Berringer Family Album) shows Martin before the Chapel.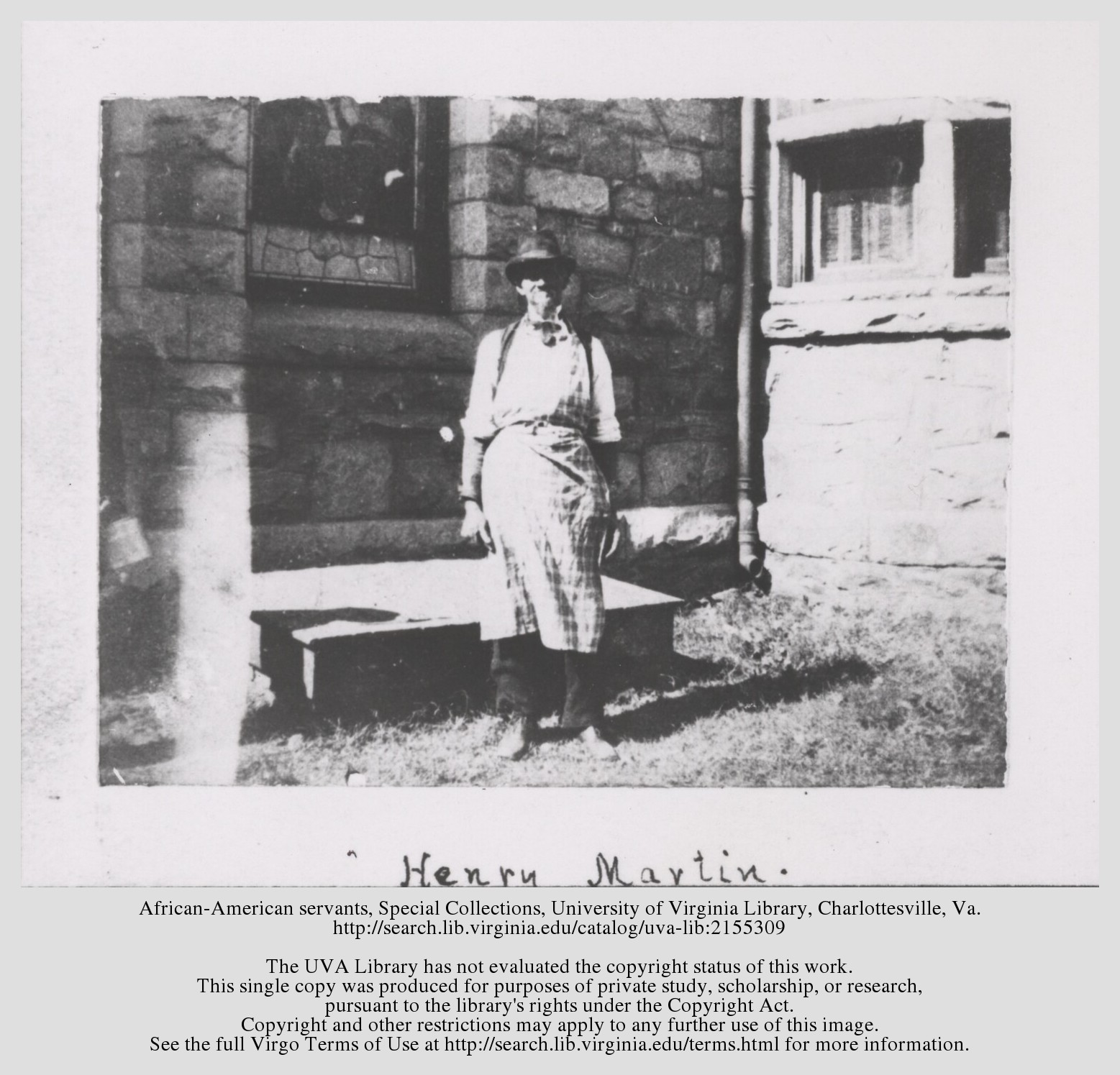 Born on July 4, 1826, at Jefferson's Monticello - on the day of Jefferson's death - Martin was sold to the Carr family, who lived outside Charlottesville in the property they called "Bentivar."
The date at which he began employ at the University is unknown, with different accounts giving different dates. Martin is said to have stated he began as bell-ringer in 1856 (unknown source), while other sources state 1868 (including Patton's article, link below). As early as 1846-7, however, he was certainly employed within the general university area (if not officially employed by the University itself). He was "hired out" at several points, working at Mrs. Carr's (P47443) boarding house, "hauling wood" between Bentivar and the University, and aiding Drs. Theodore Michie (P30254) and James L. Cabell (P39304) at the hospital during the Civil War.
Other information gathered about Martin include that he was a member of the First Baptist Church of Charlottesville (an unverified source describes him as having been a Deacon of the church) and that he lived in a house near the University on 10th street (location to be determined).
Due to his consistent service as Bell-Ringer and association with the University for "a period of sixty years," there is a relatively large number of references to and photographs of Martin (see the Henry Martin Image Gallery). While he is photographed and written about in stereotypical ways - posed, for instance, in his (unofficial) uniform before the chapel, and written about paternalistically as "simple," "faithful," and "dignified" - the sources vary in the degree to which they rely on these stereotypes. The interview of Martin published in the 1914 UVA yearbook Corks and Curls may take too much liberty in its "dramatic monologue" of Henry's own words (Martin said to have been literate, contrary to his depiction therein) [although the 1900 Federal Census lists him as unable to read and write]. Other references seem to capture interactions with Martin less than an generalized character study, such as the following reminiscence by alumnus Thomas Nelson Page (1873-4) (P30192): "I was standing my B. L. examination in the old chapel. . .and Henry had brought my dinner. I was pretty lonesome, and felt like a doomed prisoner writing his last confession. He said, 'Mr. Page, I'm prayin' for you.' . . . I think he must have helped me, for I got through. And I know I have never forgotten him . . . He is as much a part of the University, in my mind, as is Mr. Jefferson."
Henry Martin Timeline
Jul 4 1826 - Henry Martin born at Jefferson's Monticello
1848 - the year Henry Martin stated he began working at the University (at age nineteen)
1856/1868-1909 - Length of Martin's employment as the Bell-Ringer at UVA
1865 - Marriage to third wife, Patsy Washington (first wife Mary Bullock; second wife ?)
Aug 15 1869 - Daughter Anna Laurie Brooks born (d. 1944)
1877 - Daughter Cornelia Martin born (d. 1890)
Feb 19 1885 - Youngest daughter Mary Venable Calloway born (d. 1978)
1890 - BOV Minutes note Martin's salary increase to twenty-five dollars per month (effective August 1, 1890)
1909 - Commencement of Martin's pension (for "his faithful services to the University during a period of sixty years," per the BOV Minutes, at 300$ per year)
October 5, 1915 - Date of Martin's death. Funeral held at First Baptist Church (PL9293); Burial at Daughters Of Zion Cemetery (PL9292)
Information Sources
Page, Thomas Nelson. No title. Alumni Bulletin 4.2 (April 1904), 118.
Patton, John S. "Henry Martin, 1826-1915." Alumni Bulletin ser.3 vol. 8 (October 1915), pp.597-602.
For transcript of Patton's "Henry Martin, 1826-1915," click here
Smith, C. Alphonso. "Henry Martin: Bell-Ringer. A Dramatic Monologue" Corks and Curls, vol. 27 (1914): 149-151. Call Number: LD 5687.C7 v.27 1914. Page 149. Page 150. Page 151.
Information on Henry and Patsy Martin's children from J. F. Bell Funeral Home records (Race and Place, Virginia Center for Digital History)
Related Alumni Bulletin articles: Staff and Family 1826-1870
References to the Individual in the JUEL Digitized Transcripts
(Links below are to JUEL's full-text digital transcripts of primary sources that refer to the individual. If no links display, this indicates that either the JUEL digitized texts have not yet been tagged with the individual's ID/Key, or, that no reference is made to the individual in any JUEL digitized texts, or, that the primary source has not yet been digitized).
Additional Resources
- Click on JUEL Image Gallery to view the 1914 Corks and Curls article on Henry Martin and photographs of him
- Biographical note, Thomas Jefferson's Monticello
- "In the Age of Slavery," Virginia, The UVA Magazine
- Recollections of Ruth Hunt, great-granddaughter of Henry Martin, Monticello.org