SANDRIDGE, RICHARD
    by Julia Munro
JUEL ID/KEY: P47067

Richard Sandridge was the owner of the slaves Jones (47068) and Tom (47069), who he had hired out to the university in 1824 and 1825. Census information of 1820 shows Richard to have been a resident of Louisa County (PL4790). Although further information about Jones and Tom has not yet been found, advertisements from the Richmond Enquirer do reveal pertinent information about the slaves that were held by Sandridge at the time of his death (which, in turn, lead to other documents that provide yet more detail).
1. November 7, 1829 notice, Richmond Enquirer.

"NOTICE-A petition will be presented to the next General Assembly of Virginia, for leave to be granted to the following persons of colour, to wit-Nelly, Hulcly, Palmelia, Louisa, Eliza, Dabney, Milton, and their increase, emancipated by the last will and testament of Richard Sandridge, dec'd of record in Louisa County Court Clerk's Office, to remain in the State."

2. December 29, 1829 advert, Richmond Enquirer.
"LAND AND NEGROES FOR SALE.-Will be sold to the highest bidder, at the late residence of Richard Sandridge, dec. (in the County of Louisa) on Tuesday the 12th Jan. next, the tract of land on which the said Sandridge died, commonly called Smith Hill, within three miles of Cuckooville, containing 400 acres. Also 10 or 15 likely negroes consisting chiefly of young women and some children. The property will be sold on a credit till the first day of January, 1831. The payment of the land to be secured with a deed of trust. All those having claims against the estate of R. Sandridge, dec'd. will please present them for payment some time during the next year, in order that the negroes emancipated by the will of the decedent, may receive their free papers, if entitled to them. E. PENDELTON, JOS. W. PENDLETON. Ex'ors.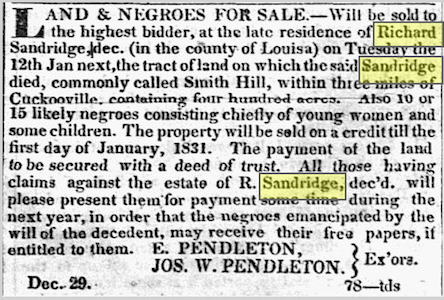 PRIMARY SOURCE INFORMATION
1. References to the Individual in the JUEL Digitized Transcripts
(Links below are to JUEL's full-text digital transcripts of primary sources that refer to the individual. If no links display, this indicates that either the JUEL digitized texts have not yet been tagged with the individual's ID/Key, or, that no reference is made to the individual in any JUEL digitized texts, or, that the primary source has not yet been digitized).
NOT YET DIGITIZED (Proctor's Daybook)
2. Links/Bibliographic Records
Proctor's Daybook [Manuscript], 1821-1828. Special Collections, University of Virginia Library. RG-5/3/2.102
Advertisement. Richmond Enquirer. Page [1], Vol. XXVI, iss. 57, November 7, 1829. Newsbank/Readex: America's Historical Newspapers (database)
Advertisement. Richmond Enquirer. Page [1], Vol. XXVI, iss. 78, December 29, 1829. Newsbank/Readex: America's Historical Newspapers (database)