Lewis, Margaret
    by Julia Munro
JUEL ID/KEY: P48493
"Margaret Lewis," a photograph by Rufus W. Holsinger taken on March 26, 1914.
This portrait is one of three dated March 26, 1914 that is labelled "Mrs. Shepherd." The African American woman has been identified as Mrs. Margaret Lewis, a notable local citizen. Margaret and her husband Paul Lewis were both teachers at the Charlottesville Freedmen's School (Paul Lewis was one of the first teachers there). Later, Mrs. Lewis worked as a nurse for the John E. Shepherd family. The Reminiscences of Ms. Philena Carkin, from her years teaching in Charlottesville at the Freedmen's School (1866-1875), mentions the Lewises and their time teaching. She describes, for instance, that Paul Lewis was a trustee for the school, as was his former owner, Judge Alexander Rives (for whom he was the "body servant") (p.32, 76).
Margaret Lewis is verified to have been buried at the Daughters of Zion Cemetery (Burial List, July 16 2019).
Below is the front-page article about Mrs. Lewis's death, published February 27, 1915 in Charlottesville's Daily Progress: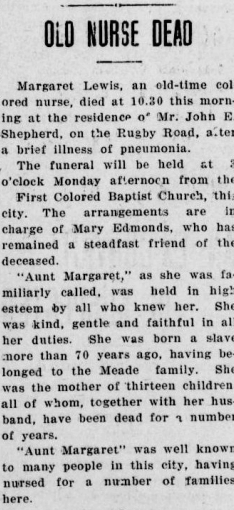 (Lynn Rainville notes the familiarity of "Aunt Margaret," a "paternalistic carryover from the Antebellum period, when favored slaves were given condescending and misleading kinship titles such as 'Aunt' and 'Uncle,'" as opposed to being referred to by their first and last names).
The Charlottesville 1910 Census has an entry for a Margaret Lewis, age 70 (which matches with the age stated in the article above), which may very well be about the same Margaret Lewis in the photograph below: "Lewis, Margaret, age 70, birth place Virginia, birth place of mother and father, Virginia; number of children born - 11, widowed, black, female, Nurse - private family, can read and write, dwelling West Main Street Charlottesville."
Interestingly, another portrait of two infants (twins) is labelled, "J. E. Shepherd," quite possibly the same John E. Shepherd who had employed Margaret Lewis. This portrait was taken after Margaret's death, on July 7 1915.
Photos of the nurse and/or infant are common in this time period, and Holsinger took several (see for instance, Mrs. Hugh Davis, U. H. Magee, Mr. Trotter, J. E. Shepherd, Margaret Lewis/Mrs. Shepherd).
The notice above mentions that she was born as a slave to the Meade family (Ms. Lewis would have been born around 1840, according to her recorded age in the 1910 Census). Looking locally, the "Meade family" referred to may have been that of Rev. Richard Kidder Meade, who was the rector at Christ Church Episcopal in Charlottesville from 1836-1868. His family was a well-known presence in the community, with his wife Ann Leaton Meade running the Piedmont Institute (beginning in 1853, it was located at 7th Street and East Market Street). According to the slave schedules of the U. S. Census, in 1860, Richard Meade owned 11 slaves.
Additional information about Margaret Lewis will be added as it is researched.
NOTE that the name with which the portrait is labelled (or, labelled "untitled") is not necessarily the name of the sitter(s) in the portrait, but rather the name of the person who paid for the portrait when it was taken (the date and name associated with each photograph is from the business ledgers of R. W. Holsinger). In this instance, the photo of Margaret Lewis is one of several labelled, "Mrs. Shepherd."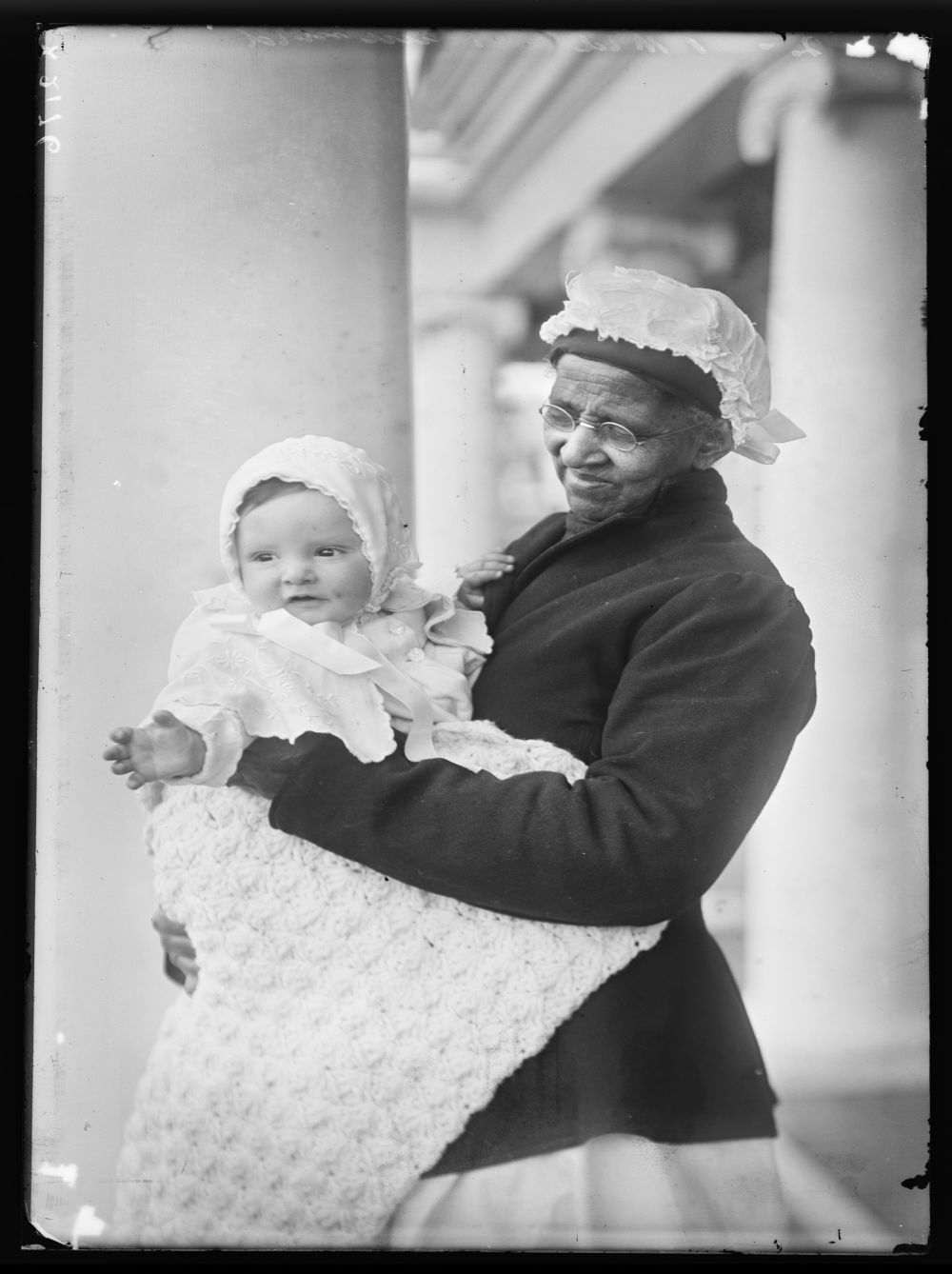 Below: U00327B1 ("Untitled")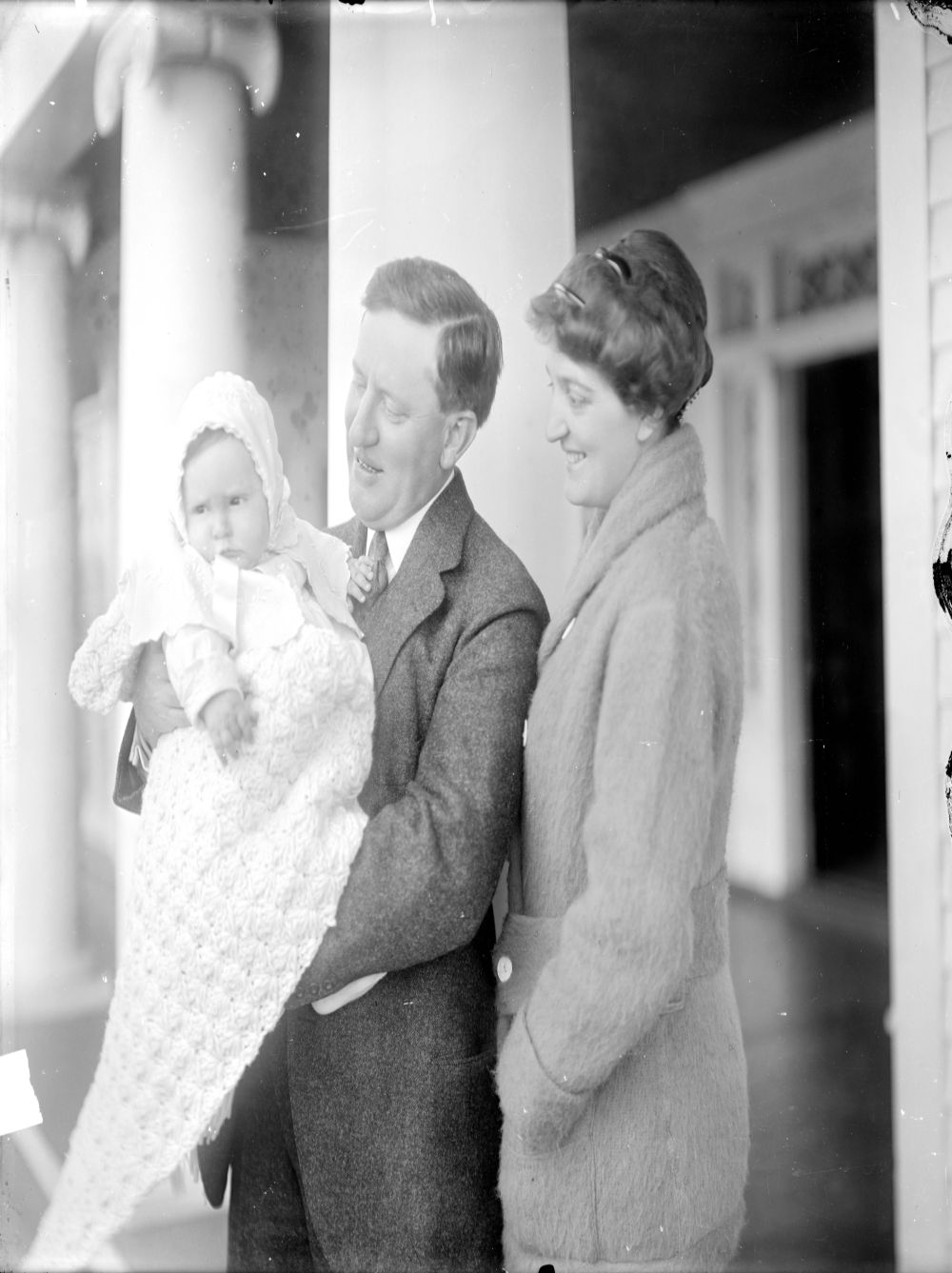 Sources
- "Margaret Lewis (labelled Mrs. Shepherd)," 1914-03-26 photograph in UVA Library Catalogue (X02176A1)
- "Untitled," date unknown photograph in UVA Library Catalogue (U00327B1)
- Daughters of Zion Cemetery Burial List, 16 July 2019 (courtesy The Preservers of the Daughters of Zion Cemetery)
- "Old Nurse Dead," Daily Progress [Charlottesville, VA] 27 February 1915, p. 1
- 1910 Charlottesville Census Entry
- Rainville, Lynn. Hidden History: African American Cemeteries in Central Virginia. Univ. of Virginia Press: 2014, p. 44.
- Rev. Richard Kidder Meade entry, findagrave.com
SEE ALSO:
Holsinger Image Gallery of African Americans
J. F. Bell Funeral Home Records
Charlottesville City Directory, 1914-15 [Hathi Trust]
1870 & 1910 U. S. Census - Charlottesville & Esmont Communities
Cite This Entry
APA Citation:

Munro, J.F. (2022, February 17). Margaret Lewis. Holsinger Portrait Project. https://juel.iath.virginia.edu/node/1323

MLA Citation:

Munro, Julia F. "Margaret Lewis." Holsinger Portrait Project. Univ. Virginia (2022, February 17). Web. [Date accessed].
First published: April 26, 2020

Return to the Holsinger Main Page or African-American Portraiture List of Names